[WATCH] MPs just wanna have fun! Godfrey and Marlene Farrugia get into the carnival spirit
Watch this video of Democratic Party MPs Godfrey and Marlene Farrugia enjoying themselves at the Nadur Carnival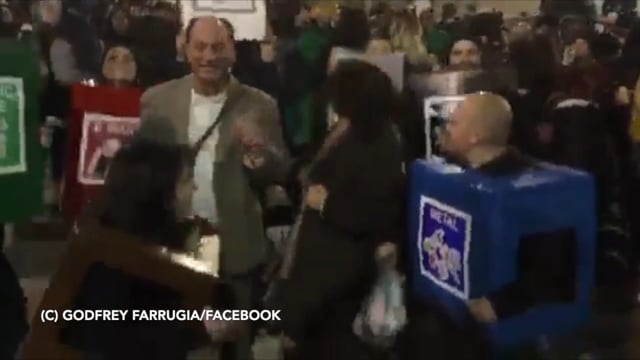 MPs Godfrey and Marlene Farrugia have a dance-off at Nadur Carnival
Throwing shapes: that's Marlene Farrugia's secret job.
When the Democratic Party MP is not giving fiery speeches against her former party in the House of Representatives, Farrugia is busy getting her groove on.
A video posted on Facebook by her partner and fellow Democratic MP Godfrey Farrugia, captures the couple having a ball at Gozo's Nadur carnival.
Surrounded by carnival revellers dressed, it seems, as the latest waste separation collection boxes (...ok), the Farrugias make merry and dance with classic abandon.
Marlene is certainly gifted: her famous dances have previously graced the Nationalist Party stage during a St Julian's mass meeting, and of course inside one of the PN clubs she visited during the 2017 election. And so a star was born.
It's been a good few weeks altogether: it's not often that you get a leaked WhatsApp vid of the Prime Minister jumping around in celebratory mood, and of an MP dancing around in public.