[WATCH] MHRA: 'No point in commercial activity unless it improves everyone's life'
MHRA president Tony Zahra urges employers in the hospitality sector to 'take chances on others' and 'make a real change'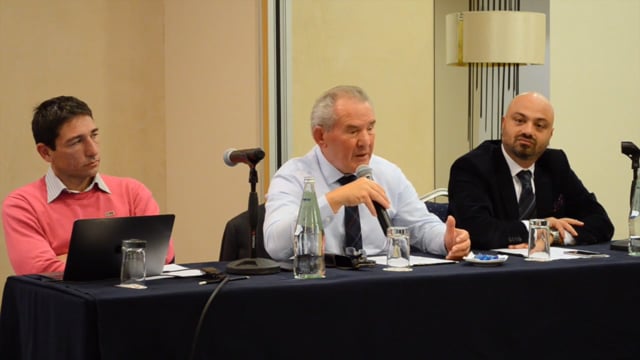 MHRA: 'No point in commercial activity unless it improves everyone's life'
Malta Hotels and restaurant association
 president Tony Zahra said that there is no point in increased commercial activity if it doesn't help those who need it the most, and achieve positive change in people's lives.
Speaking at an information session organized by MHRA and the Employment and Training Corporation about the employment of persons with a disability, Zahra said that the act had been around for some 40 years, but that it had not been so readily implemented in the sector.
"There is no point in having economic activity unless it affects everyone in society," he said. "Everyone should be a winner and we shouldn't and needn't leave anyone behind anymore."
Zahra urged greater awareness and openness about those capable of working in the sector. Speaking about his own experience in the sector, Zahra said that when employers take particularly risky choices with their employees, they ended up being the stories they remembered the most.
"I hope that this meeting serves to show how this industry can be an effective vessel of change," he said, addressing the various employers present at the event.
ETC CEO Clyde Caruana said that the two organisations had decided to collaborate on the issue of employment of those with a disability in the sector following the various disagreements that had emerged between employers and the government.
"We seek to show that employing those with a disability shouldn't be a concept of charity, but that it involves added skills and benefits to the workforce," Caruana said, adding that some 40% to 45% of employers in the hospitality sector already complied to the 2% disabled staff quota for companies employing over 20 people.
Caruana further explained that companies complying to the quota had increased in a year, with 40% of eligibile complying by the end of December 2015, compared to 11% in 2014.
"We think that the only way forward is to increase interaction and consultation between employers and organisations that train and offer support to those with disabilities," Caruana said.
He explained that organizations, such as the Lino Spiteri Foundation, present at the session, would offer support to employers help them learn more about their employees with a disability and to help them to become compliant.
Speaking about the corporation's planned rebranding, Caruana also added that changes were also planned for the ETC act to allow employers to know which, if any, of their employees were registered as having a disability, among others.
"Many employers have expressed concern at the fact that they do not know which of their employees have a disability, given the implications this could have on health and safety at the work place," Caruana said, adding that the clause in the act would be up for public consultation in the coming weeks.
"The clause suggests that ETC will be able to notify employers about the identity of any disabled employees registered with their companies," he said.
Caruana told the newsroom that if this information is to be made available to employers, then additional safeguards to ensure no discrimination against these employees would also be part and parcel of the change.
Caruana added that by 2017, companies who don't fulfill the disability quota will have to pay an annual €2,400 fee for every disabled person they should be employing, capped at €10,000. Funds generated through this initiative will go to the national fund for the integration of people with a disability. 





Executive Director of the Lino Spiteri foundation, Nathan Farrugia explained that the organization would be assisting employers to comply to the quota by consulting with employers about the skills they need and offering long-term support to employees with a disability constant training to match these needs.
"Our role is to match the skills sets in Malta as well as possible to the needs of the industry," he said.
Farrugia said that the group would be working towards registering those with a disability and supporting them towards guided training through job coaches and trainers to support the training necessary to the market.
"We are currently working with ITS to develop the skills and the lifestyle that they can use in the industry," he added.
Farrugia added that the group would also help employers to job carve according to the needs of certain employees, as well as a cultivation of more understanding and support for those with a disability.
"The more we can expose their talents and skills, the more people will be willing to support those with a disability," he said.
Answering questions from the floor, Farrugia said that employers and the association would need to build a better relationship in order to ensure that people with the necessary skills are found.