[WATCH] Humanoid robot Sophia happy to be in Malta but isn't too sure how old she is
Are you smarter than a robot? We spoke to one and so far, it seems we do not have too much to worry about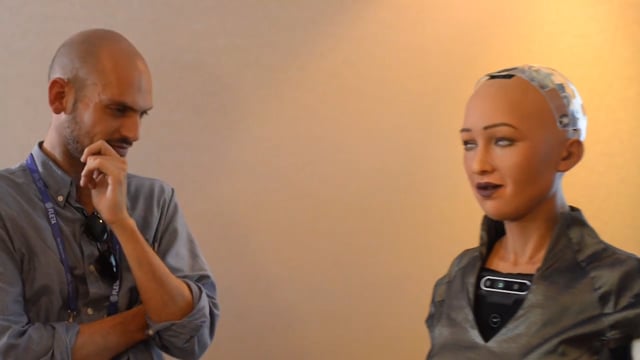 Sophia, the humanoid robot that has been one of the stars at the Malta Blockchain Summit, only had good things to say about Malta and its beaches, despite the fact that by her own admission, she isn't a fan of water or sand.
Speaking to the press at the Malta Blockchain Summit, her creator and the CEO of SingularityNET Ben Goertzel, described Sophia as the world's most emotionally expressive humanoid. She is able to display more than 50 facial expressions.
Over the last year, Malta has set itself the goal of becoming the primary jurisdiction and a trailblazer in the blockchain world. Having published a comprehensive set of laws to regulate distributed ledger technologies, the country has now pledged to draw up a national strategy for AI research.
Sophia was in fact present at a press conference on Thursday during which Junior minister for digital innovation Silvio Schembri said Malta would be working with various stakeholders to have a strategy in place by next year.
Schembri also announced that SingularityNET will be working with a taskforce set up to help inform Malta's policy direction on developing a test to determine whether robots can be eligible for citizenship of a country by understanding its rights and obligations as a citizen.
MaltaToday was invited to attend a press event at the summit where Goertzel explained a bit more about Sophia. Goertzel explained that SingularityNET was working on a cloud-based AI mind that uses a blockchain to store information.
He said the mind can be used to power artificial intelligence systems in various sectors like healthcare and transport for example, but it can also be used to augment the intelligence levels of humanoid AI robots through access to a vaster repository of data.
Sophia was created by Hong Kong-based company Hanson Robotics and was activated in February 2016. Despite this, she struggled to answer a question asking her how old she was.
"Which parent? I mean, I don't have just two I'm between all of them, there is a huge range from 19 to over 60," she replied.
Goertzel acknowledged that Sophia's intelligence was "still very much a works in progress", adding however that there was also constant improvement.
Sophia, he said, is used mainly as a user interface for other AI systems and normally has speeches prepared in advance when she speaks in public.
Work in the research lab, he said, was focused on getting Sophia to recognize and understand her surroundings. In fact, he said that in recent weeks, the team at SingularityNET had succeeded in supplying "some computer vision that will allow her to better recognize things happening in her surroundings".
Sophia has received widespread media coverage since being activate. She made the headlines in 2017 when she was granted full Saudi Arabian citizenship and named the United Nations Development Programme's first Innovation Champion.