Nature's fury wreaks havoc across the island • Waves flood Radisson Hotel in St Julian's
MaltaToday photographer Chris Mangion captures waves, whipped up by high winds, lashing the Valletta breakwater • MaltaToday readers send in their own best shots of the storm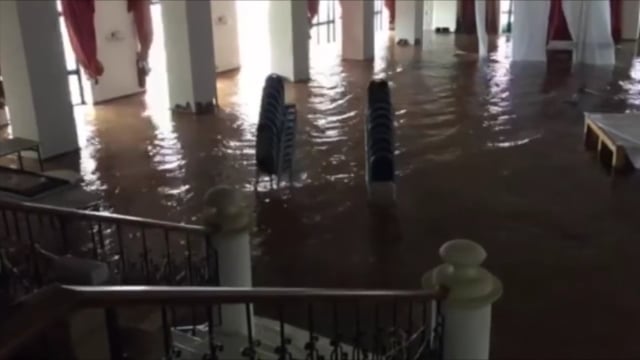 Fierce waves flood Radisson Blu Resort in St Julian's
The strong winds that hit Malta over the weekend are wreaking havoc across various parts of the island, mostly coastal areas.
Photos posted on Facebook taken at the Portomaso marina show boats covered in fish slime.
No accidents have been reported so far as a result of the storm, the Police told MaltaToday, although several calls were made to report damaged electricity poles, cables and telephone boxes.
The storm and the strong North East winds caused damage at the Radisson Blu Resort in St Julian's. The main areas affected by the heavy waves where the Hotel's Grand Ballroom, the Kontiki Restaurant, the Marion Mizzi Spa and the Indoor pool and gym areas.
The hotel said that these areas have now been closed off and repairs are scheduled to commence with immediate effect.
Despite this setback, the hotel was serving breakfast to its guests while other public areas continue to operate.
Adrian Attard, Radisson Blu Resort, St Julian's General Manager, said: "We are working around the setbacks that this storm has caused and continue to welcome guests with our usual service delivery."
Police are advising the public to avoid coastal areas and seafronts due to high waves caused by the gale-force winds currently battering the islands.
The MET office says wind speeds of 22-33 knots, gusting at up to 45 knots, or Force 8 are predicted on Saturday, together with rain.
The winds are expected to die down by tomorrow, Sunday 30th October, but rain showers will continue to feature. Fair weather is forecasted to return by Monday.