[WATCH] Caravanners make most of Zonqor as development looms
Blissful peace lures holiday-makers into setting up caravans at Zonqor Point, soon to be site for private university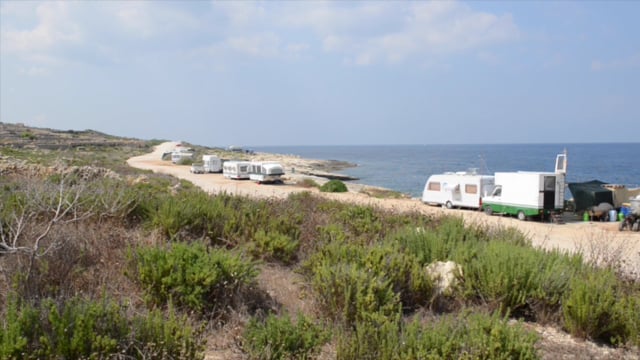 Caravanners enjoy blissful peace at Zonqor Point • Video: Ray Attard
Zonqor Point has fast become the centre of a political battleground over an environmental controversy that has swept the nation.
Yet for a group of holiday-makers, it is still merely a peaceful spot to set up their caravans and while away their time during a lazy afternoon.
The Prime Minister's recent confirmation that a private university will partially be developed there was met with outrage from environmental NGOs, with Front Harsien ODZ and Din l-Art Helwa insisting that the development of Zonqor Point would be a loss to Malta's limited green area.

Zonqor Point was blissfully quiet on a Monday afternoon, with the only noise a light breeze whistling over its shrubby greenery. Some five caravans were set up on the gravelly road, with adjacent canopies sheltering a few rickety chairs and tables from the August heat. A few tourists could be seen traipsing into a nearby dive bar in their bathing suits, seemingly after having taken a dip into the crystal-clear waters.
It was a sharp reminder of what could soon be lost forever, replaced by a concrete campus and the disruption of what was once a peaceful environment.