[WATCH] Planning Authority clears illegally dumped rubble in picturesque Mtarfa valley
After 13 years, the PA has taken direct action to clear illegally dumped inert material from the valley that lies between Mtarfa and Mdina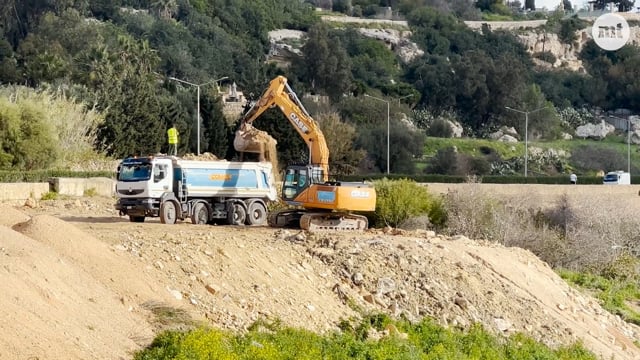 The Planning Authority moved in with mechanical shovels and trucks on Tuesday to remove tonnes of rubble dumped in the valley between Mtarfa and Mdina.
The direct action was the result of two enforcement notices, one dating back to 2010 and another to 2021, issued against contravener Paul Falzon.
On Tuesday morning, PA enforcement officials accompanied by the police moved in on the site situated in the vicinity of the Għeriexem Valley Bridge, a Grade 1 protected monument.
In parts of the plot spread over 9,273sq.m, the dumped inert material reached depths of between 8m and 10m, according to a case officer's report.
The first enforcement order issued 13 years ago referred to the "dumping activity consisting of deposition of construction material, bricks, and limestone... on scheduled land without a permit."
The second enforcement order issued two years ago referred to the "levelling of inert material, gravel and soil and the formation of a ramp without permit".
Falzon had tried to regularise the illegal activity through a sanctioning application presented in 2018 which was refused by the Planning Authority in September of the same year. Falzon had proposed covering the inert material with 0.5m of soil.
At that stage, Falzon had already accumulated €23,064 in daily fines.
Subsequently an appeal against this decision filed by Falzon was refused by the Environment and Planning Review Tribunal in July 2021.
Falzon argued that the deposition of inert material with a soil topping on existing field had "absolutely no impact on the footprint of the bridge" or on the landscape value of the area.
During the appeal the Superintendence for Cultural Heritage remarked that the works involved "very extensive dumping to a considerable depth, effectively remodelling the profile of the valley" and also noted that the dumping also "extends into the footprint of a Grade 1 scheduled monument, namely the bridge across the valley".
Following the refusal Falzon applied to "create 1m swales for water drainage" and "to sanction the deposition of clean construction waste" but the application in question is still at the initial "screening" stage and has yet to be validated by the PA.
Concurrently Falzon represented by architect Charles Buhagiar also filed an appeal against the enforcement order issued in 2010. This appeal is still pending.