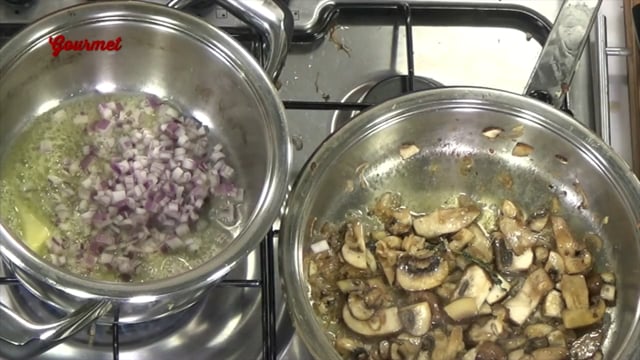 Watch Sean Gravina make a roasted pork belly with a Madeira glaze and puy lentils
Rolled pork belly
Ingredients
1 tsp black peppercorns
3 garlic cloves, finely chopped
1 large bunch of fresh thyme, leaves only
3 tbsp olive oil
1½ - 2kg piece pork belly (skin on) cut from the slimmer half, skin scored
2 lemons
Pork mince
1 onion
1 bulb garlic
10 sprigs thyme
Method
Toast the spices in a dry frying pan for a couple of mins. Pound them together in a pestle and mortar with some flaked sea salt, the garlic and half the thyme to make a paste, then mix with 2 tbsp olive oil.
Mix in with the pork mince.
Lay the pork on a board skin-side down. Spread the mince and neatly roll the meat into a joint surrounded by the skin then use butchers' string to tie the joint tightly at regular intervals to hold the joint together. Cover and chill, leaving to marinate for a few hours or overnight.
When ready to cook, rub the skin of the joint with plenty of salt and 1 tbsp remaining olive oil.
Roughly chop the onions, and cut the bulb of garlic in half.
Place at the bottom of the baking tray with the thyme.
Place the meat on top so that it is not touching the pan and roast at 200°C for 20 mins.
Add the stock to the pan, underneath the meat, turn down the heat to 180°C and roast for another 2 hours.
Increase the heat to 220°C for the final 30 mins for a crispy skin.
Allow to rest for 20 mins before carving.
Serve with puy lentils and a Madiera glaze.
Madeira glaze
Ingredients
1 shallots
4 cloves garlic
1 tbsp butter
1 tbsp olive oil
1 tot Madeira
½ glass red wine
100g button mushrooms
Chicken stock
3 tbsp sherry vinegar
Method
Cut the shallot and garlic and sauté in the butter and olive oil.
Chop the mushrooms and add to the pan, adding a little more butter.
Add the red wine and allow to reduce.
When syrupy, add the Madeira.
When thick pass through a sieve and return the sauce to the pan, adding a little bit more Madeira and sherry vinegar.
Puy Lentils
Ingredients
30g hazelnuts
100g puy lentils
350ml water
2 bay leaves
4 thyme sprigs
1 small celeriac cut into 1cm cubes
1 onion, diced
1 clove garlic
Chicken stock
½ zucchini, diced
Salt
Hazelnut oil
Sage
100g butter
Method
Roast hazelnuts in pre-heated oven for 15min 140°C.
Combine lentils, water, bay leaves and thyme in a small saucepan. Bring to the boil, then simmer for 40 mins or until al dente, drain and sieve.
Saute the onion in butter and add the celeriac and a whole clove of garlic.
Add some chicken stock and season with salt and pepper.
Add the zucchini and then add the cooked lentils.
Add the sherry vinegar, butter, salt and hazelnut oil and finish off with butter and roasted hazelnuts.
This recipe first appeared on Gourmet Today TV, aired on 19 December, 2014.
Sponsored by John Smith's Extra Smooth Ale
John Smith's is Britain's biggest-selling bitter ale, It has malty and caramel flavours, complemented by some fruitiness. It is creamy smooth in texture, and is available in cans and on draught in Malta.