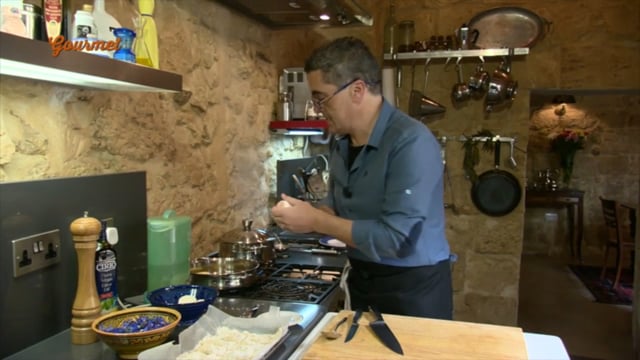 Watch Michael Diacono make ravioli with stuffed with gbejniet served with saffron butter and borage flowers
Ravioli stuffed with gbejniet in saffron butter and borage flowers
Ingredients
Pasta
300g flour
3 eggs
1 tsp salt
1 tbsp olive oil
Filling
6 fresh gbejniet
Handful borage leaves
Handful borage flowers
Salt and pepper
Sauce
1 tbsp butter
Olive oil
1 clove garlic
Salt and pepper
A few strands saffron
Method
To make the pasta place the flour directly onto the surface and make a well in the centre.
Add the eggs, olive oil and salt and beat the mixture slowly encorporating the flour from the sides.
Knead the dough until smooth.
Wrap in cling film and place in the fridge for 30 mins.
To make the filling place the borage leaves in a pan with some butter and olive oil and allow to wilt and allow to cool.
Mix in the fresh gbejniet and grate the dried gbejniet into the mixture.
Add a handful of borage flowers and season with salt and pepper.
Add the chopped parsley and set aside until ready to use.
Roll out the dough, using a pasta machine if you have one.
Place teaspoons of filling approx. 1 inch apart.
Moisten the sides with water and fold the pasta over the filling and press down to seal.
Cut into individual ravioli and place on a floured tray until ready to cook. (You can freeze the ravioli at this stage.)
To make the sauce, melt the butter in a pan and add the garlic, saffron, salt and pepper.
When ready to serve place the ravioli in boiling water and cook for a couple of minutes until the ravioli come to the top of the boiling water.
Place in the pan with the sauce and toss.
Serve with a handful of borage flowers.
This recipe first appeared on Gourmet Today TV, aired on TVM on 6 March, 2015.