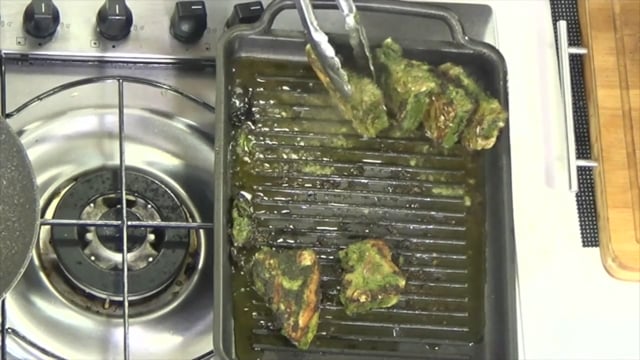 Watch Sean Gravina make lamb T-bones with a yoghurt dipping sauce and smoked aubergine puree
Lamb T-bones with smokey aubergine puree and Benna yoghurt dipping sauce
Ingredients
Marinade
Small bunch fresh coriander
Small bunch fresh mint
A large pinch of parsley
¼ Scotch bonnet chilli
5cm piece fresh ginger
¼ lemon, zest only
½ tsp coriander seeds, toasted
½ tsp cumin seeds, toasted
2 cardamom pods, seeds only, toasted
50ml olive oil
Smoked aubergines
3 aubergines
4 cloves garlic (confit)
1 tsp cumin seeds, toasted
Handful thyme
Sea salt
1 tsp sherry vinegar
Benna yoghurt dipping sauce
1 Benna yoghurt
1 tsp Dijon mustard
Salt and pepper
¼ lemon, juice only
Method
To make marinade for the lamb, place all the ingredients except the olive oil in a food processor and pulse, adding oil in small quantities until a pesto like paste is formed.
Massage the paste into the lamb cutlets, season with pepper (no salt at this stage) and leave to marinate over night.
To make the smokey, preheat the oven to 180°C.
Heat a griddle pan and when hot, add the whole aubergines and char all over until almost burnt.
Place them in a roasting tray and put into the oven for about 30 min, or until soft.
Allow to cool, then carefully peel away the skin, keeping only the flesh.
Place the flesh in a food processor and add the garlic, cumin, thyme (leaves only), vinegar salt and pepper.
Blitz until smooth and set aside.
In the meantime, mix together the yoghurt, mustard and lemon juice, season with salt and pepper and set aside.
Take the cutlets out of the marinade and season with salt and pepper.
Cook them in a hot griddle pan over medium heat for approximately 3 mins on each side.
Serve with the smoky aubergine puree and a dollop of mint yoghurt.
This recipe first appeared on Gourmet Today TV, aired on TVM on 24 April, 2015.