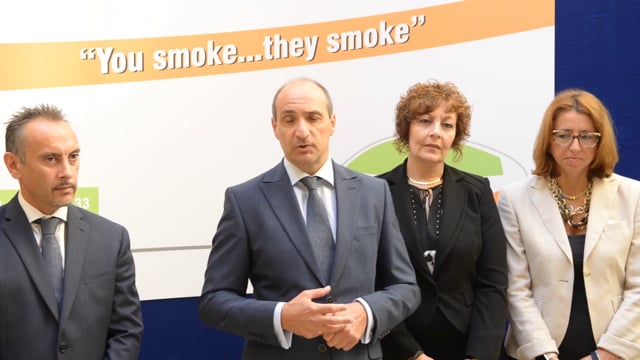 Motorists caught smoking with minors in car will be slapped with a €50 fine as of January
No more smoking in cars when children are present, the government has decided in a law that will come into force as of January 2017.

Motorists will have to suppress their urge to smoke any kind of tobacco – including electronic cigarettes – until they arrive to their destination, if they want to avoid a €50 fine.

In a press conference, Health Minister Chris Fearne also announced that passengers caught smoking will subject both themselves and the car driver to separate fines.

The law, announced in the 2017 Budget, will come into force on 1 January and will be preceded by an awareness campaign and a period of training among police officers and traffic wardens.

"Smoke gets particularly concentrated in cars, even when the windows are open," Fearne said during the launch of the 'You Smoke They Smoke' Awareness Campaign.

"After a few minutes, the effects on the secondhand smoker are the same as those on the smoker. The harmful effects of cigarette smoke are even more pronounced among children, whose neurological systems are still developing."
Fearne rejected concerns that the new ban will be tantamount to undue interference by government into people's private lives.
"The laws allow the authorities to intervene in people's private lives in matters where public health is concerned," he said. "The aim of this ban is to safeguard the public health of minors."
He also said that the ban will help improve the health of minors whose parents smoke at home.
"Ideally, adults shouldn't smoke anywhere where there are children around and indeed that's what our awareness campaign will be focusing on," he said. "Canada had introduced a similar scheme though, and studies show that while it reduced the prevalence of smoking inside cars, it didn't increase the prevalence of smoking at home."
The ban also enjoys the support of the Tobacco Industry Advisory Council (TIAC).