[WATCH] Joseph Muscat in Gozo: pledges more work, investment for Gozitans
Labour leader holds mass meeting in Gozo where pledged more work for Gozitans, more investment and revision of hunting fines • Announces skyBET investment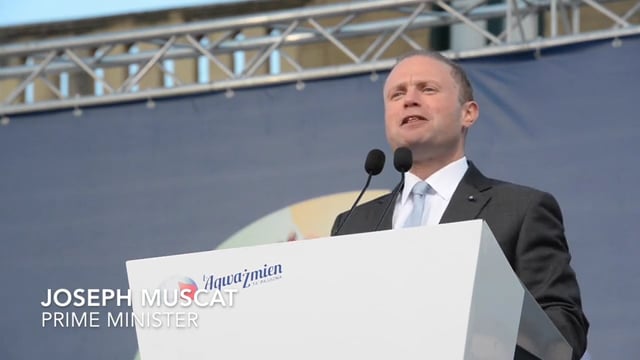 Joseph Muscat in Gozo: pledges more work, investment for Gozitans
Labour leader Joseph Muscat descended in Gozo pledging more work for Gozitans, more investment and revision of hunting fines.
With white doves released as he walked onto the stage, Muscat appeared before his supporters with a promise to continue building on what his government has already implemented in Gozo.
But more, Muscat took Opposition leader Simon Busuttil to task when the latter quoted "an anonymous text" claiming that a betting company "is packed and ready to leave".
"The irresponsibility of a person who aims to lead a country and quotes anonymous texts to scare people," Muscat said, adding that the betting company in question has no plans of leaving. He took the opportunity to announce an application by betting giant skyBET which will be investing in Malta.
An SMS which has been in circulation reads "don't quote me but feel free to spread the word that very reliable people are claiming that betsson's plan A on June 5th is the immediate departure from Malta, plan B, if PN wins they get a 3-month trial period. Same for Lufthansa Technik".
According to Muscat, Busuttil quoted the SMS during the recording of the BA debate, "when people expect leaders to say their vision for the country".
Muscat said that never as today did Gozo experience as much work as today, with a bigger number of Gozitans working in Gozo.
"But the good news is that more is yet to come for Gozo," Muscat said.
The Labour leader listed a number of measures being proposed by his party for the sister island, including measures that incentives companies offering teleworking to their workers.
Parents whose children study in Malta and are renting a place will be given a €5,000 tax deduction.
The crowd erupted in chants of "Joseph! Joseph!" when the leader asked Gozitans present whom they trusted to construct the tunnel between the two islands.
Muscat warned against scaring away the investment being carried by Vitals Global Healthcare, insisting that Barts Medical School would pull out without this investment. "In total, Gozitans would be losing out on €50 million," he said.
The Labour leader urged his audience to help him in pushing voters to vote for all candidates of the Labour Party.
"Don't leave anyone out… vote for all candidates so that your message will be one that no one can ignore," he said.
Pledging to continue treating the two islands equally, Muscat said it was his government that pushed filmmakers to film in Gozo, for RS2 to invest in Gozo and for the Barts Medical School to go to Gozo.
Muscat warned Gozitans that "there are those who can't stomach the fact that you voted for the Labour movement in 2013".
"You've seen the difference in these four years," he said.
In Gozo and targeting hunters and trappers, Muscat said they knew where they stood with the Labour government.