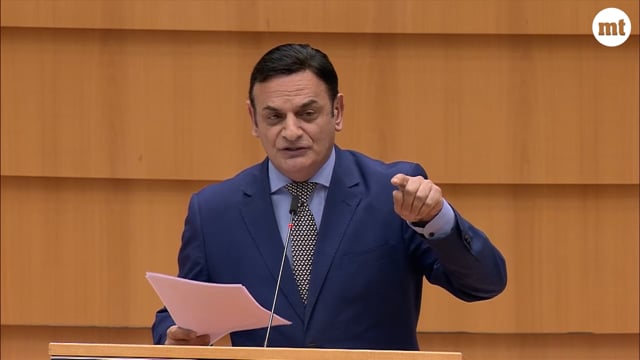 The European Commission's report on rule of law and its statements on Malta, Spain and Greece were the subject of a debate in the European Parliament, bookended by interventions from Commissioner for justice Vera Jourova.
MEPs discussed the Commission's latest report over respect of democracy and EU values by member states, with Malta's two speakers, Nationalist MEP David Casa and Labour MEP Alex Aguis Saliba – who spoke right after each other – making for an interesting contrast on the view of rule of law in Malta.
Casa made clear reference to recent developments in Maltese politics, namely the court decision on the Steward hospitals privatisation and the fraud committed in its award; as well as the police investigation requested into the publication of court evidence in the form of WhatsApp chats between Caruana Galizia mastermind Yorgen Fenech and Labour MP Rosianne Cutajar in 2019.
"The situation is getting worse," David Casa said. "The state capture of institutions is protecting people in power, for them to get rich on the backs of workers and families."
Casa denounced the lack of prosecutions for members of the political class over cases of alleged corruption first revealed by the assassinated journalist Daphne Caruana Galizia. "And court prosecutions are failing due to wilful, gross incompetence... unless it concerns the investigation of someone not connected to corruption," Casa said referring to the criminal action requested by Rosianne Cutajar into Mark Camilleri, who published the Yorgen Fenech chats.
Labour MEP Alex Agius Saliba immediately countered, saying it was the Court of Criminal Appeal that was taking action to protect the evidence collected in the course of the investigation on the Caruana Galizia assassination, from being leaked.
"Malta is under attack by the self-declared paladins of rule of law who think the courts have no right to defend evidence that is important in the prosecution of those accused of assassinating Caruana Galizia. Those who believe in the separation of powers want us to condemn the courts – not the police, David – after the court order to protect the evidence was breached."
Agius Saliba said Malta had borne the brunt of an average three resolutions every year "over recycled facts and misinformation", but EPP members were refusing to condemn the Greek government's spying on the socialist opposition leader.
Dutch MEP Sophie In't Veldt, who spoke earlier in the debate, was critical of the "tribal mudslinging" between the European political groups over rule of law. "Rule of law has no political affiliation – if undermined, all citizens will suffer... the EPP has drawn no lessons in its passionate defence of Viktor Orban and the attack on demoracy in Greece, while the S&D seems to have no problem sitting with leaders who do not share its social democratic values."
Labour MEP Cyrus Engerer, away in Stockholm on parliamentary commitments, presented a written statement.
"This is the eleventh time we are discussing the Rule of Law in Malta this legislature," Engerer said, accusing the EPP's refusal to discuss the Greek governmnet's spying on journalists and politicians. "To soften down on Greece, you decided to put Malta in the spotlight, believing you could score points back home."
"In all humility, we have acknowledged any shortcomings and the Labour government in Malta has worked tirelessly over the past years to right what was wrong... Commission President Von Der Leyen praised Malta for being on the right track, the Venice Commission commended the changes and in this very Parliament in the LIBE Committee, which I form part of, we have acknowledged the advances made and look forward to end the intense monitoring of the rule of law in Malta."