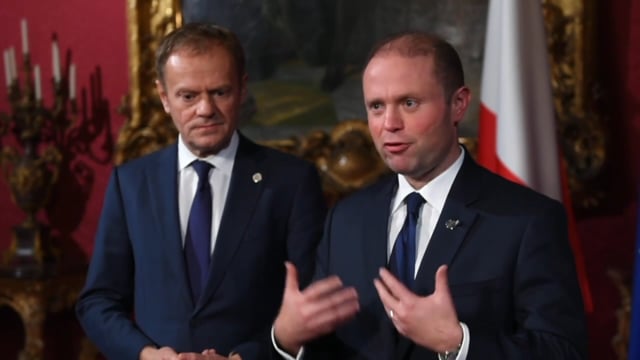 Joseph Muscat: 'First decent shot at tackling migration'
The agreement which Italy reached with Libya, and which the European Union is supporting, is the "one first decent shot at trying to get proper management of migratory flows in the Central Mediterranean" route, Prime Minister Joseph Muscat said today.
In a press briefing with Maltese journalists late this evening, Muscat and European Council President Donald Tusk reiterated that today's agreement "may be the first real pragmatic step" to stem the migratory flows from Libya.
Only yesterday, the Italian navy rescued 1,400 people off the Libyan coast.
With Libya on the brink of being a failed state, with dire human rights conditions, Muscat insisted that the "significant problems" which the North African country faced, "are not reason enough to abandon them, but a reason to engage even more".
The Italy-Libya agreement was also endorsed by the Libyan Presidential Council, which the Maltese Prime Minister insisted was a significant milestone.
Muscat went on to add that the next step would be introducing humanitarian corridors allowing asylum seekers and refugees to enter Europe legally without risking their lives.
Muscat said that Italian Prime Minister Paolo Gentiloni had informed EU leaders that Libyan Prime Minister Fayez al-Serraj also "signaled an evolving political discussion in Libya, which involves Libyan National Army General Khalif Haftar".
Muscat insisted that one should recognize the courage mastered by al-Serraj in requesting assistance to help Libya patrol its sea and land borders.
"This is not a foreign intervention," he added.
Patients tell us that in Libya migrants are starving/harassed/abused. The last thing they need is the EU & Italy to join the predator's list pic.twitter.com/EdBAyUwegJ

— MSF Sea (@MSF_Sea) February 3, 2017
Citing bad conditions in reception camps and continuing dangers faced by migrations, human rights organisations have accused the EU of making Libya seem safe and abandoning humanitarian values.
"Libya is not a safe place and blocking people in the country or returning them to Libya makes a mockery of the EU's so-called fundamental values of human dignity and rule of law," the medical charity Medecins Sans Frontieres said.
"Patients tell us that in Libya, migrants are starving, harassed and abused… the last thing they need is the EU and Italy to join the predators' list."
Amnesty International said that the agreement would cause "horrendous suffering".
Asked whether they could guarantee that Libya was a stable country in which the rule of law is upheld, Muscat replied: "I can guarantee that if the situation remains as is, we will have another humanitarian crises; fingers will be pointed at the EU for not doing anything; people will still die and they will still be held in camps. People will die in the desert and criminals paid.
"The only guarantee is the one first decent shot at trying to get a proper management of migratory flows in the Central Mediterranean route."
Tusk added: "It's obvious that Libya is not a stable state but this agreement, and efforts, is to help reestablish stability."