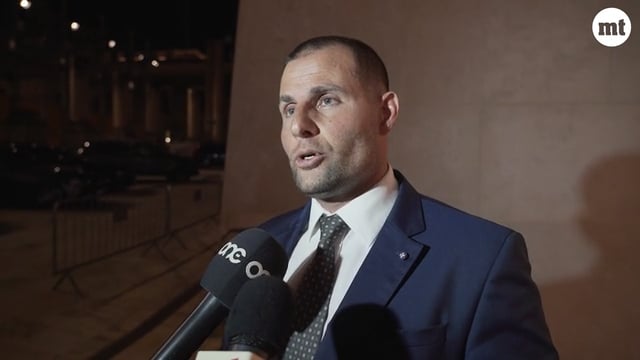 Prime Minister Robert Abela pulled out a Nationalist Party manifesto from 2017, which proposed an anti-deadlock mechanism for high-level appointments, during a parliamentary reading of an exact proposal being put forward by the Labour Party.
Speaking in parliament on Monday, Abela tabled a physical copy of the 2017 Forza Nazzjonali manifesto which includes a pledge to introduce an anti-deadlock mechanism for appointments that require a two-thirds majority in parliament.
"So that we do not end up in a position where these positions remain empty because a two-thirds vote in Parliament has not been reached after two consecutive votes, the third vote will be by a simple majority so that the appointment can be made," the pledge reads.
Abela pointed out that the Labour Party's proposal is identical to this, except that it is being limited to the appointment of a standards commissioner.
Government published the legal text of an amendment last week to introduce an anti-deadlock mechanism in the appointment of the standards commissioner.
The proposal allows the standards commissioner to be appointed by parliament through a simple majority vote if the nomination fails to garner a two-thirds majority in two previous voting rounds.
This was introduced after the government nominated former chief justice Joseph Azzopardi to the role of standards commissioner. This has been rejected by the Opposition, leading to an impasse as the post needs a two-thirds majority.
The Nationalist Party has been highly critical of the new anti-deadlock mechanism, calling it anti-democratic. Opposition leader Bernard Grech said that the legal bill is an attempt by the PM to install whoever he wants into the role of standards commissioner.
Speaking to MaltaToday on Monday, Abela said that the Opposition had a clear agreement with the government on the nomination of Joseph Azzopardi as standards commissioner.
"Moments after he reached that agreement with me, the establishment in the PN forced him to backtrack on what was agreed upon."
According to Abela, Grech wrote back to him after this to suggest that Azzopardi be nominated for the role of ombudsman.
"The workload of the ombudsman goes far beyond that of the standards commissioner. If there were doubts on the efficiency of Azzopardi, I'm sure the Opposition leader would not nominate him for the position."
Abela added that the criticism of Azzopardi's 'efficiency' was not made by the Nationalist Party. "The Chief Justice Emeritus fulfilled his duties as a judge and chief justice with utmost seriousness and decorum."
He went on to exclude the possibility of going back to the drawing board to find consensus with the Opposition on a new nominee.
"The amendment we're proposing today reflects precisely the electoral pledge of the Nationalist Party in 2017. So the possibility [of going back to the drawing board] is excluded."