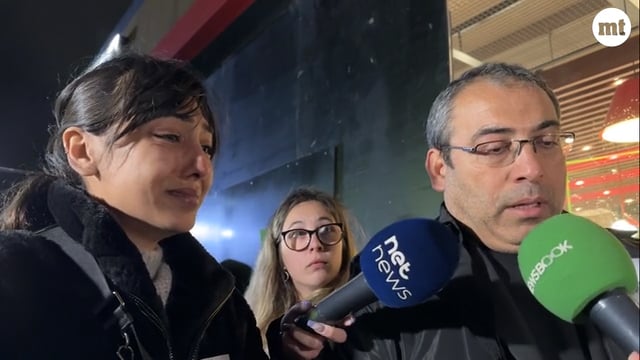 The family of Pelin Kaya, the woman who was killed in a traffic collision last Wednesday, have said that her death was not an accident but murder, at a vigil held to commemorate her on Friday.
Kaya was killed an hour into her 30th birthday last Thursday, when a black BMW rammed into her and killed her while walking in front of the Paul & Rocco petrol station in Gżira at 1am.
The car crashed through the glass front of the KFC restaurant next door.
Video has since emerged of the BMW heading directly towards her, prompting police to charge the driver, Jeremie Camilleri, with murder. Camilleri has plead not guilty to murder charges.
A large group of mourners gathered to support Pelin's family outside of KFC, with her uncle Aykan Ceylan and her weeping sister Derya Kaya at the forefront, wearing pictures of Pelin pinned to their lapels.
Opposition leader Bernard Grech was one of the attendees in the crowd, joined by his wife and the Nationalist Party's secretary general Michael Piccinino
At least 100 people showed up to the vigil to pay respect to Pelin. Attendies laid flowers and placards with the words 'we trust Maltese community and justice' and 'it's not an accident, it is murder'.
Amongst the flowers was a birthday cake brought by Pelin's friends with a slice missing. The slice was served at Pelin's own birthday party hours before her death.
The purple cake was decorated with references to the 90's sitcom Friends. Yellow icing on the top of the cake read out "Why God Why", in reference to the show.
The family thanked all attendies, as well as the Turkish embassy, for showing their support.
They added that Pelin loved Malta and felt safe here.
"She chose Malta over us maybe, but we know Pelin loves us so much as well," her uncle said. "We believe he will get the punishment he deserved with the supportt of the Maltese community."
A tearful crowd applauded at the end of the vigil as the rain started to drizzle down. Mourners began to chant "Pelin, Pelin!" in unison.