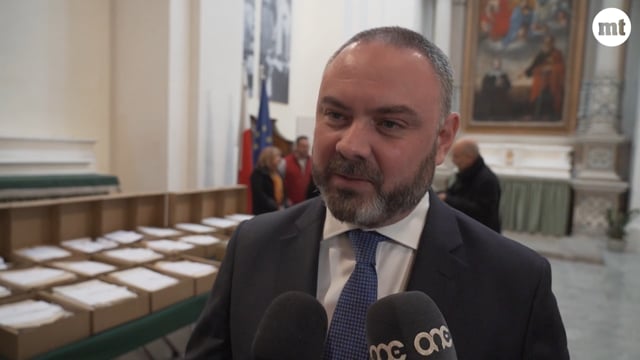 Hundreds of Sir Adrian Dingli's historical records are now part of Malta's National Archives.
These records date back to the 19th century, when Malta became part of the British Empire.
Following the granting to Malta of the Constitution of 1849, Sir Adrian Dingli was one of the eight Maltese members elected to the Council of Government to represent the people. He was elected to represent the people of Gozo. In 1852 he also established the Malta Militia.
In 1880 he was elevated to the highest judicial office in the country, by being appointed President of the Court of Appeal, with the title of Chief Justice which had been abolished forty years earlier. He represented both the local and the Imperial Government on missions abroad on several occasions, including Cyprus where the Cypriots requested that he be appointed Civil High Commissioner. He became the de facto Governor of Malta.
The documents unveiled on Wednesday are one of the largest archive collections that Albert Ganado donated to the National Archives.
"These records are of enormous importance because through them we will continue to retain history as an intrinsic part of life of our country and we will continue to give it the attention it deserves," National Heritage Minister Owen Bonnici told journalists.
Charles Farrugia, the National Archivist, emphasised the historical significance of such collections.
"I thank Albert Ganado who over the course of many years collected and saved these documents," said Farrugia.
Sir Adrian Dingli's father, Paolo, served as judge and president of the Court of Appeal.
Documentation related to Judge Paolo Dingli can also be found in the collection.
The collection includes large numbers of reports on legal matters, documents related to the drafting of laws, letters belonging to Dingli, and other documents of national importance.
Documents related to Chief Justice Sir John Stoddart, the last English judge appointed in Malta and who was removed by the British authorities in 1838, are also present in the collection.
In addition to the Sir Adrian Dingli Collection, the National Archives also acquired documents on the Bonavita Family, Emmanuele Mizzi, Paolo Testaferrata Abela, Caruana Gatto and Albert Laferla.
The Bonavita Collection includes documents collected by Vincenzo Bonavita (1752-1810), a judge during the time of the Knights and who ended up exiled to Gozo accused of treason by the Maltese, who rose up against the French, after they were expelled.
Documents belonging to Sir Ignazio Gavino Bonavita (1792–1865), including the Statute Fondamentale dell'Università di Malta of 1838 with his handwritten notes, were also acquired by the national archives.