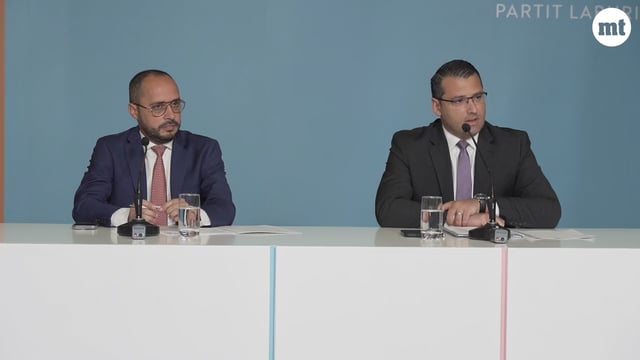 Justice Minister Jonathan Attard has insisted Prime Minister Robert Abela was forced to list Steward's services after the Nationalist Party "maliciously twisted the facts" on the court's conclusions.
"This was not a defence of Steward, but the facts. You had the Opposition maliciously giving incorrect facts, including an untruthful interpretation of the court's conclusions, we needed to respond with facts," Attard said on Friday.
He was unfazed by criticism that Abela defended Steward in parliament yesterday when he listed their achievements over the past five years.
The Justice Minister was addressing a press conference with MP Randolph Debattista at the Labour Party headquarters in Hamrun. They were reacting to what happened during yesterday's special parliamentary debate on a motion condemning the Steward deal.
The House descended into chaos after the Opposition walked out after the Speaker allowed the government to amend the motion outside its allotted time.
"We had to list the facts. Yes, you had situations where Steward did not abide by its obligations, and we will continue to stress on that. We want value for money for the funds forked out by government," Attard said. "We will see the conclusions of the Auditor General report, and decide on the way forward."
He refused the suggestion that government's decision to wait for the NAO's report before deciding whether to sue Steward, was a delaying tactic.
"It is not a delaying tactic, so much so that government immediately shortened the appeal timeframe," the minister said. Pressed further on whether government should launch its own investigation into the deal, given the lengthy timeframes of NAO reports, the minister said government has "full trust" in the institutions.
"Government can do the exercise, but when you have an institution which can carry out these checks and balances, we will use it," he said. Attard then said that one investigation does not rule the other one out.
During the press conference, Debattista slammed the Opposition's actions, claiming they tried to "shut the Prime Minister up".
"After the PM exposed Delia's lies, they tried to silence him," he said. "We could have made populist declarations like them, but we do not want to adopt that mentality."