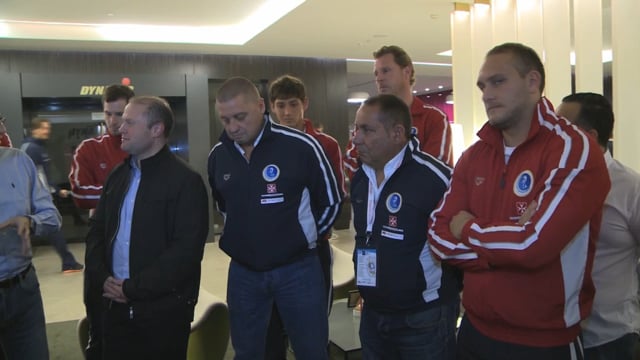 ASA President Joe Caruana Curran 'disappointed' by PN Whip David Agius's comments
Barely a day after PN Whip David Agius was left with egg on his face for claiming that PBS had failed to purchase the TV rights to broadcast Malta's matches – only for it to then transpire that TVM2 had in fact purchased the rights – the Nationalist MP's claims over the government's lack of support to Malta's national waterpolo team, were today contradicted by ASA President Joe Caruana Curran.
On Saturday, Agius, the PN's spokesman on sports, claimed that the government had ignored the Opposition's proposals for it to sponsor the Maltese waterpolo players' full-time training and for it broadcast Malta's matches on national TV.
"PBS should do everything in its power to broadcast the games in which the national team is playing live," Agius said. However, no sooner than Agius's comments, the government said the PN whip had been "misinformed" as the national broadcaster secured the coverage rights of Malta's games at the event.
Agius's blunder also irked Joe Caruana Curran, the President of Malta's Aquatic Sport Association, with the latter expressing his "disappointment" at the comments of the PN whip.
"I am sorry to see the comments by David Agius, I will not respond as I refuse to engage in political bickering… What I can say is that from the moment Malta qualified for the qualifying stages of these championships, the government made good on its promises and helped us all the way."
"I am sure that if it hadn't been for the government, we would not be here. We can promise you that this is just the beginning, you do put your money where your mouth is, and we will put the effort in," Caruana Curran told Prime Minister Joseph Muscat in Belgrade.
On his part, the Prime Minister, who was accompanied to Belgrade by Energy Minister Konrad Mizzi, paid tribute to the Maltese waterpolo team and said Malta's qualification to the European Championship finals in Belgrade was a "huge honour to Malta."
Malta's European adventure begins today at 4.45pm with a match against France. The match will be broadcast live on TVM2.
Karl Izzo's team then play hosts Serbia on 12 January and Croatia on 14 January. As every team in the group stages will qualify to the round of 16, Malta is guaranteed at least one more game – against either Montenegro, Spain, the Netherlands, or Slovakia.
The broadcast of Malta's matches is sponsored by Enemalta and Shanghai Electric Power.