[WATCH] Fenech mounts legal action after Swedes delist €279 million pension fund
Falcon Funds director and MP Tonio Fenech vehemently rejects Swedish pensions agency's claims that a fund of which he is a director 'failed to carry out its assignment in a prudent and professional manner'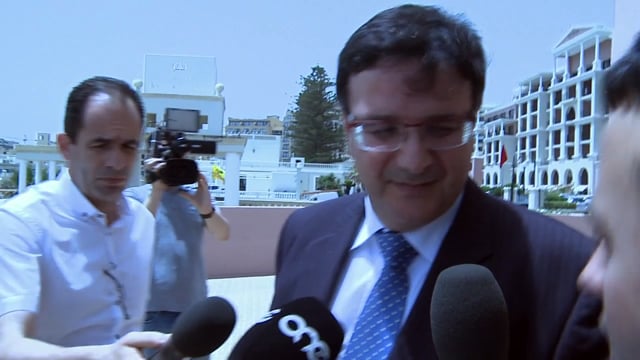 Tonio Fenech says Swedish pensions agency's decision 'based on suppositions'.
Nationalist MP Tonio Fenech, one of the three directors of Falcon Funds, is contesting a decision by the Swedish Pensions Agency to deregister a pension fund he is a director of, from the platform of Swedish pension funds before he can have his day in court and contest the decision.
Under instruction from the pensions agency (SPA), Fenech was told in a 15-page directive that Falcon Funds Sicav must give savers all their money back: €279 million in total, which is roughly divided over underlying funds, the Falcon 'aggressive', 'balanced' and 'cautious' sub-funds. Fenech is not a shareholder of Falcon Funds, which as a SICAV is 'owned' by the pension savers themselves. The fund's investment decisions are taken by Temple Asset Management.
READ Tonio Fenech fends off Swedish pensions headache
The money is used to reinvest in stocks and bonds, but the SPA insists that some €31 million were placed in suspicious instruments meant to benefit the Swedish entrepreneur Emil Ingmanson – the man who played a role in setting up Falcon Fund and who is now seeking a Maltese investment licence to manage the Pension fund itself.
The SPA is also adamant that Swedish savers were misled by a call centre to switch funds and transfer savings in Falcon Funds. It accused Falcon Funds of "failing to carry out its assignment in a prudent and professional manner".
But Fenech, who chairs Falcon Funds' meetings, decried the agency's decision as "unjust and motivated by newspaper stories, rather than facts".
"They didn't present any proof of wrongdoing in their letter to me, but plenty of suppositions that the board was never involved in. Indeed, the Malta Financial Services Authority has reviewed [Falcon Funds]'s investment and found nothing wrong," Fenech told MaltaToday.
He said that Falcon Funds will file an injunction in the Swedish courts to contest the validity of the pensions' agency's decision. "They weren't even supposed to reach a final decision, without first giving us the chance to appeal," he said. "If the court rules that the basis on which the agency delisted the fund was valid, then that decision will be respected."
The pensions agency, which earlier this year suspended Falcon Funds on suspicion that some of its underlying investments could not be reliably valued, accused it of marketing the pension fund in breach of Swedish law.
Falcon Funds' distributor in Sweden, Stellum, employed the Konsumentkfraft call centre between July and September 2015 to convince pension savers to put all their savings in Falcon Fund. The SPA says that Falcon Funds continued to receive large amounts of capital from fund changes carried out by Konsumentkraft well after the service agreement was terminated in September 2015.