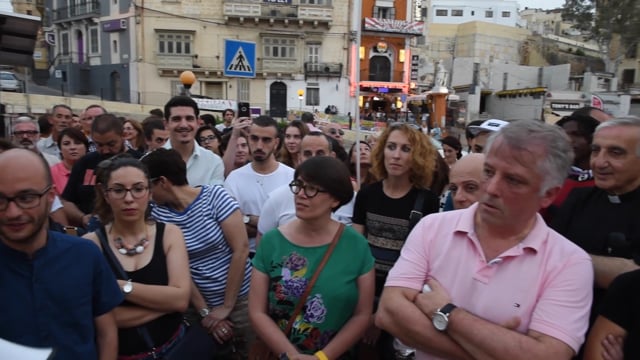 Walk towards Love: Malta honours Orlando shooting victims • Video by Chris Mangion
It was a unanimous call for more tolerance and a commitment to continue fighting against discrimination and prejudice that echoed through the message of those present for the candle-lit vigil led by Drachma.
Drachma brought together people from different walks of life to honour the 49 victims of the Orlando shooting. Candles, rainbow-coloured flags and messages of love marked the 'walk towards Love' from Balluta Bay to the Love monument at Spinola Bay.
The killing on Sunday was the deadliest mass shooting in the United States and the nation's worst terror attack since 9/11.
Joining Drachma were members of the civil society, US ambassador to Malta G. Kathleen Hill, the Malta Gay Rights Movement (MGRM), Fr Charles Cordina, Alternattiva Demokratika chairperson Arnold Cassola, Opposition leader Simon Busuttil, PN MP Clyde Puli and Civil Society Network representative Michael Briguglio.
The vigil however also served to express sorrow and solidarity with the many victims of hate across the world.
"All of us here have come from different walks of life, and yet we have walked together in this walk towards Love," cofounder and coordinator of the Drachma parents group Joseanne Peregin said.
"Today, we also remember the UK member of Parliament Jo Cox who too was killed in what is also being linked to hate crime, because of her work among refugees. Today, we also remember the hundreds and thousands of silent and forgotten vctims of all form sof prejudice, many of whom we don't hear about."
Peregin said that one may feel like there wasn't much do to, to help the fallen victims of such hate attacks: "But showing a strong, united front is a good place to start."
"Let us remember that compassion and inclusion are what will actively drive out prejudice and violence. So in the face of violence and hatred let compassion, unity and solidarity be our show of strength."
In a statement released earlier in the day, Alternattiva Demokratika spokesperson on Civil Rights, Claire Azzopardi Lane said: "Alternattiva Demokratika will be there because we are against any sort of violence and intolerance against minority groups. The Orlando shooting has shown that there is still a lot of prejudice against minorities. We will continue striving for a world where all people are to be treated as equals irrespective of beliefs, colour, race or gender orientation,"
Sunday's shooting was carried out by Omar Mateen, 29, of Fort Pierce, Florida.
Mateen carried an assault rifle and a pistol into the packed Pulse club about 2 a.m., killing 49 people and wounding at least 53.
"We know enough to say this was an act of terror and act of hate," President Obama said in an address to the nation from the White House.
"This is an especially heart-breaking day for our friends who are lesbian, gay, bisexual or transgender."