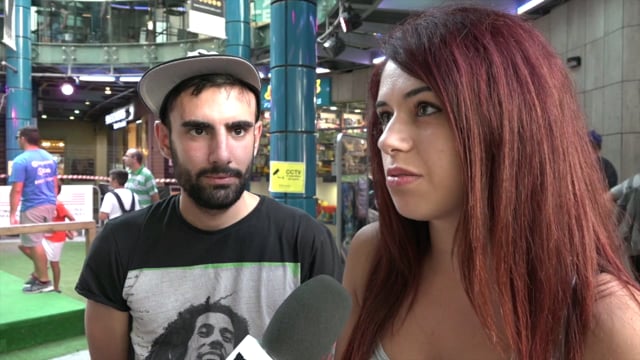 Dozens show up in Baystreet to try to 'Catch 'em all'
As the frenzy surrounding the latest entertainment craze Pokémon Go seems nowhere close to abating, dozens showed up in Baystreet, St. Julian's earlier today to try to... catch 'em all.
People of all ages, from young children and teenagers enjoying their summer holidays to adults who had just finished work showed up to participate in the challenge organized by Baystreet shopping complex in St George's Bay.
The game seems to be everywhere you go, with people literally glued to their phone as they walk around to catch one monster or another, and with various news reports about new apps such as PokeMatch (a dating app riding on the success of Pokémon Go), as well as reports suggesting that new parents are opting to name their children after the monsters in the game. In just a few weeks, the app, or rather people distracted by the app have already caused all manner of accidents. Naturally, the promise of such a large gathering of players of the game in one place, was quite intriguing, and a unique chance to try to understand what all the fuss is about…
Walking into the shopping complex, we were greeted by groups standing huddled together, looking down at their phones and looking up to express their glee as a new monster pops up on their screen.
Baystreet, I was informed by some of the participants of the challenge, is teeming with virtual monsters for fans of the game to catch, as well as it serving as a famed 'Pokéstop' where users can replenish their stocks.
"One of the reasons I enjoy the game the most is that I was an avid fan of the cartoon when I was young, and I used to spend hours watching different episodes and collecting the various card games the show had spawned," one of the participants told the newsroom.
However, other participants at the event confirmed that the game isn't just addictive for fans of the cartoon. Many decided to jump into the game following the furore it created on an international level. Indeed many of those at the event, told MaltaToday that they had gone out of their way to create new accounts based in the United States, on the Apple App Store in order to access it before it was made available in Europe on 13th July.
"I've been playing it for the past two weeks, and I've actually been going out for walks more frequently thanks to the game," another participant said.
Indeed most of those at the event told Malta Today that they had found the app had encouraged them both to stay physically active (one of the requirments of the game is walking for fixed distances to hatch 'eggs' containing monsters) and to interact with people with similar interests.
"There are some places that are more densely populated by monsters than others, and some of the monsters are even country specific," another enthusiastic fan told us, while dispensing tips about where he had found most monsters during his experience of the game so far.
Asked how long they spent playing the game on average, players said they spent an average of about two hours a day glued to their screens, with some confessing that they tried to sneak in a few hours of play-time even during working hours.
"It's a very entertaining way to pass the time, in fact I use it most often when I'm on a bus or waiting somewhere," one of the girls at the event said.
Perhaps one of the biggest problems players of the app can face is the way it saps out your battery life, but looking around me tonight I realised... portable power banks too must be having a great month!
Among the most coveted monsters are the lovable main characters Pikachu and Charmander, and a number of other more rare creatures including Onyx, Dragonite and Charizard, which maintained an aura of evasiveness.
As part of the challenge organised today, users were encouraged to register and then participate in a physical treasure hunt to find all eight printed monsters placed throughout the complex, while also catching virtual monsters on the app. Winners of the treasure hunt were then given a number of gifts from stores in Baystreet.
Perhaps our inner grouch might be annoyed at this latest fad, but watching participants of the event I can't deny that the game might indeed have served to get people to run around and socialise more than any other of the recent smart phone crazes. Witnessing such a gathering is also a good place to come to terms with the fact that the craze won't be going anywhere anytime soon, with users stressing that their ultimate aim is indeed to complete their collection of monsters…