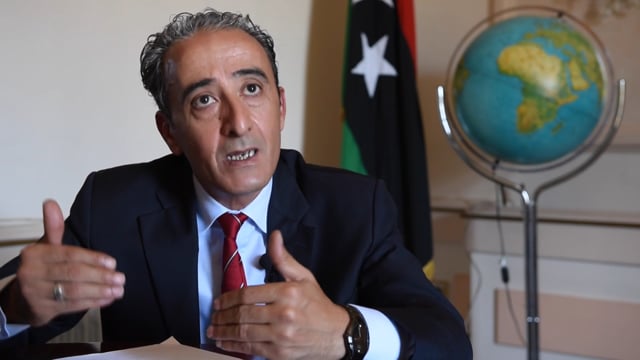 Chargé d'affaires denies reports of 'merger' • Video by Chris Mangion
Libyan chargé d'affaires Habib Mohammed Al-Amin has categorically denied media reports that "the two Libyan embassies in Malta are in talks to merge into a single embassy".
Al-Amin is recognised by the Maltese government as the Libyan diplomat representing the UN-backed government in Libya. Consulate services in Malta are provided by the embassy's premises in Ta' Xbiex, as listed on the website of the Ministry for Foreign Affairs.
The embassy building in Balzan was however taken over by Libyan national Hussein Musrati, who presented himself to the Maltese press back in 2014 as the chargé d'affaires representing the Tripoli-based government. This followed a split which led to the setting up of two parliaments in Libya.
Malta, following in the footsteps of the European Union, the United Nations and the international community, supports the UN-backed Presidency Council, presently led by Libyan Prime Minister Faiez Serraj. Serraj is currently battling opposition in the hope of providing a cabinet for the Government of National Accord which is acceptable to the House of Representatives, the Libya Herald has reported.
Quoting Musrati, the Malta Independent on Sunday reported that Al-Amin and Musrati were "in talks". "We don't know who the Chargé D'affaires will be, Mr Al-Amin or me. We are awaiting a decision from Libya," he told the newspaper.
But Al-Amin denied the existence of such talks. He further added that Musrati was not a recognised diplomat in Malta and provided copies of statements that inform the Maltese government that the Libyan embassy – which for the past year and a half was based in Ta' Xbiex – was regaining control of the Balzan building. The villa in Balzan used to house the Libyan embassy in Malta before Musrati walked in.
Copies seen by this newspaper also show Al-Amin approving the salaries of people who worked for Musrati as employees. A second included a payment to Musrati himself. It also transpires that Musrati is not in possession of a valid diplomatic card.
"The problem was never about who the chargé d'affairs was but it was about Musrati and his people taking the building," Al-Amin said, adding that 'his' embassy was recognised by Maltese banks.
The problem, he explained, was solved over a week ago when a Libyan delegation came to Malta and handed the Balzan premises back to the Libyan embassy.
This is the first time that Al-Amin has talked to the media.
"I came here to work not to seek the media's attention. I don't want to bring over the conflict in Libya to Malta. I represent all of Libya and I support the dialogue process. I am here to serve all Libyan nationals, irrespective of which part of Libya they come from."
Al-Amin said that the only way to stop the war, conflict and terrorism in Libya was to support the Presidency Council.