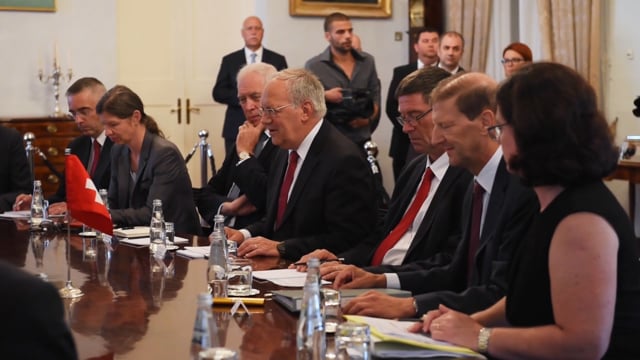 Prime Minister Joseph Muscat in talks with Swiss President Johann Schneider-Ammann • Video by Chris Mangion
Prime Minister Joseph Muscat has warned the President of Switzerland that any negotiations with the European Union on the freedom of movement of EU citizens will impact the EU's negotiations with the United Kingdom.
Johann Schneider-Ammann leaves Malta today, following talks with the Maltese prime minister at Auberge de Castille. The two delegations, which included Foreign Affairs Minister George Vella, parliamentary secretary Ian Borg and the permanent representative to the EU Marlene Bonnici, engaged in bilateral talks.
Talks between the European Union and Switzerland have been underway for two years but the Swiss Confederation is upping pressure as the February 2017 deadline looms. European Commission President Jean-Claude Juncker is set to meet Schneider-Amman later on this month.
In a 2014 referendum, the Swiss narrowly voted to restrict immigration, with 50.3% in favour of quotas. Around 1.3 million EU citizens live in Switzerland and 300,000 more commute to the country. According to media report, outright quotas are out of the question but the EU may instead accept temporary measures – such as giving hiring preference to Swiss and EU citizens – already in Switzerland – in struggling sectors with high jobless rates.
Wanting to send a direct message to the UK, the EU has told Switzerland that it will lose access to the single market if imposes controls on free movement.
Next year, Malta will be taking on the Presidency of the Council of the European Union. With his visit to Malta, the two governments aimed at addressing the concerns being raised.
The "preparatory work" is currently being carried out by the European Commission and the Slovak Presidency, with Malta taking over in January.
"This six-month presidency is turning out to be eventful," the Prime Minister quipped.
Muscat welcomed concrete proposals on immigration put forward by Switzerland soon after the British votes.
"We will work hard to find a solution," Muscat reassured Schneider-Ammann, adding that small countries could not be "held hostage" by the big countries.
"What Switzerland is now proposing is a step in the right directions … and much better structured proposal that one would have expected," he said. "We know that the clock is ticking."
Muscat however warned that there were "a number of problems and issues" which he wanted to discuss further.
"The issue is not Switzerland as a country but how this will impact negotiations with the United Kingdom. Are we redefining what freedom of movement means? This is something that we need to carefully approach."