[WATCH] Five French nationals on surveillance mission to Libya dead in aircraft crash outside Malta runway
Turboprop aircraft crashed outside the Malta airport runway shortly after take-off at 7:30am • Flight was believed to be French Customs operation tracing human and drug trafficking routes • Remains of all five French nationals found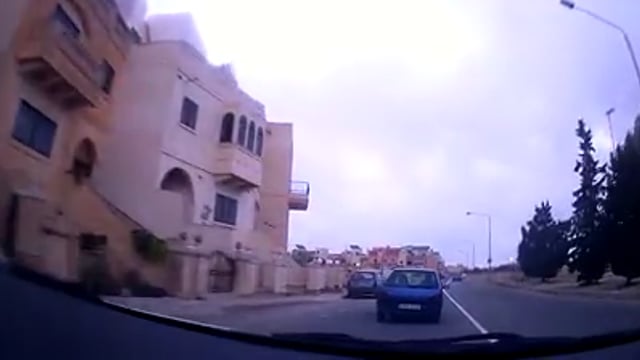 Dramatic footage captured in car-mounted camera. Video by Laurent Azzopardi
Captured this moments after #Luqa plane crash;all shocked pre take off.sharing this via data @pinkdixie22 @rebeccagyeo @BBCBreaking #Malta pic.twitter.com/PxpErWH8yX

— Ed_De Gaetano (@eddydeg) October 24, 2016
A small-engine aircraft has crashed in Safi after developing engine trouble the minute it took to air from the MIA runway, in a tragic accident that left five French nationals dead. Witnesses on site of the rescue described the scene as a pile of charred, black metal parts, owing to the scale of the explosion that ensued as the aircraft, a Fairchild Metroliner MkIII, crashed into the ground.
The Maltese government confirmed that the flight was part of a French Customs surveillance operation, which has been taking place for the past five months and tasked with tracing routes of illicit traficking of all sorts, including human trafficking and drug trafficking. But the French customs said in a tweet that it had none of its employees on board. Le Monde reported that three of the dead were secret service officers, while past reports link the CAE-leased aircraft to the EUNAVFOR Mediterranean mission.
The remains of all five French nationals have been found.
The government said that information, footage and eyewitness accounts, including those of three Armed Forces of Malta personnel at the nearby Safi barracks and two commercial airline pilots, clearly indicated there was no explosion prior to impact. Crime scene investigators inspect debris from crashed plane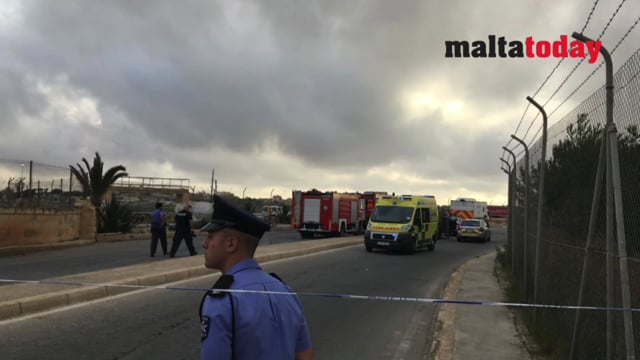 Aircraft crash eyewitness saw 'ball of fire'
Military sources had earlier told MaltaToday the small aircraft was departing to head to Misrata in northwestern Libya, on an anti-human trafficking mission. But the EU border agency Frontex confirmed early on that the plane was not not one of its aircraft and EU High Representative Federica Mogherini said the officials were not part of an EU mission. It would appear that the plane is regularly leased out to EU and United States military personnel in Malta.
A plane-spotter who witnessed the accident said he was just packing up his equipment when the plane crash-landed at around 7:30am. "It was an explosion, a right ball of fire," a visibly-shaken William Farrugia, 19, said.
The aircraft crashed on the road between Safi and Kirkop, right outside the MIA runway. The airplane was seen rising in the air and then nosediving back into the ground. The explosion was caught in dramatic footage by a motorist driving along the road.
The Fairchild Metroliner, registration number N577MX, was registered to Luxembourg-based CAE Aviation, a major civil and defence contractor offering maritime and terrestrial surveillance to various civilian clients, NGOs as well as many defence and security agencies.
In a statement, MIA said that rescue and fire services teams and the Civil Protection Department and Mater Dei Hospital were dispatched to the scene immediately. "Our priority at this time is with the passengers involved. The aerodrome was reopened at 11.30am to allow flights to land and take off. Passengers are advised to check the airport website for further information."
Health minister Chris Fearne announced a psychological helpline – 25456900 – on a tweet, together with a walk-in service at the Paola health centre.
Aircraft which crashed after takeoff part of #France Customs surveillance op against illicit trafficking.Remains of 5French nationals found.

— Joseph Muscat (@JosephMuscat_JM) October 24, 2016
Cancelled flights
Air Malta said that a number of its flights were delayed as Malta International Airport was closed down following the plane crash.
The following flights that were scheduled to depart from MIA this morning will be delayed: KM612/3 (Malta-Rome-Malta), KM394/5 (Malta-Amsterdam-Malta), KM116/7 (Malta-London Gatwick-Malta), KM100/101 (Malta-London Heathrow-Malta) and KM306/7 (Malta-Munich-Malta).
An inbound flight from Catania was rediverted back to Catania while flights KM423 from Brussles and KM479 from Paris were waiting for MIA to reopen before leaving for Malta.
The airline said it was offering affected passengers free re-booking on any Air Malta scheduled flight, subject to availability, or full refund of the ticket.
In a statement, the Office for Consumer Affairs within the Malta Competition and Consumer Affairs Authority (MCCAA) has reminded passengers affected by the temporary closure of the Malta International Airport this morning that all those who had flights delayed of cancelled are legally entitled to meals and refreshments commensurate to the waiting time. Moreover, the MCCAA has also reminded passengers that they are entitled to two telephone calls, fax messages or e-mails free of charge.
In cases where flights have been cancelled or delayed by five hours or more, passengers are also entitled to either cancel their trip and claim full reimbursement, or to re-booking a later date.
If the time of departure is deferred until the next day, passengers must also be offered hotel accommodation and transport between the airport and the place of accommodation.
The MCCAA has encouraged passengers to contact their airline for further information, and to access the MIA website and social media channels that are being updated with the latest developments. The MCCAA may be contacted by phone on 2395 2000 or via email on: [email protected]
The airplane
The Fairchild Swearingen Metroliner (later Fairchild Aerospace Metro) is a 19-seat, pressurised, twin-turboprop airliner first produced by Swearingen Aircraft and later by Fairchild. This type of aircraft has been involved in 22 other crash incidents, the one before the Malta accident being on 2 June, 2014 when a Aeronaves TSM Fairchild (Swearingen) SA226TC Metro II, registration XA-UKP, crashed shortly after take-off from Querétaro international airport, Querétaro State, Mexico.