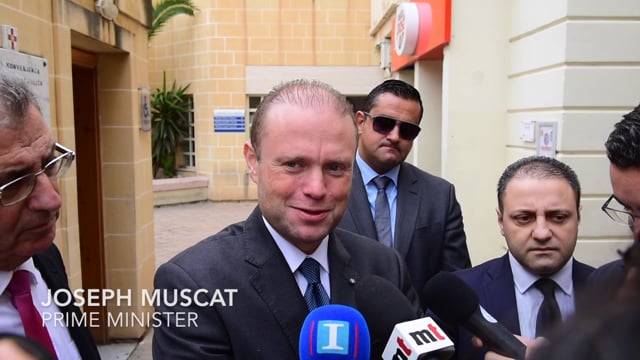 'He was phoning as his coach' - Muscat defends ministry aide who called police about Bogdanovic's arrest. Video: James Bianchi
Prime Minister Joseph Muscat has denied that political pressure led to the early release of footballer Daniel Bogdanovic from police custody, arguing that the chief of staff's junior minister who called the police about his interest had done so in the capacity of his coach.
An inquiry confirmed that the chief of staff of parliamentary secretary Ian Borg, Jesmond Zammit, had called Assistant Police Commissioner Carmelo Magri, because as the coach of Xewkija Tigers, Zammit felt "it was his duty" to inquire about his player's arrest.
However, the inquiry – led by retired AFM commander Carmel Vassallo - found no evidence of political pressure having been exerted on the police to release the player in time for Xewkija's Sunday league game against Kercem.
When asked by MaltaToday, Muscat said that the fact that Zammit was also Bogdanovic's coach added a different dimension to the case.
"The system in Malta isn't like in other countries whereby people only occupy single roles," he said. "[Jesmond Zammit] didn't call the police as Ian Borg's chief of staff but as a coach who was concerned about whether his player will be available to him or not. The recordings have been published and the inquiry revealed that there was no undue pressure on the police [to release Bogdanovic].
"Could things have been done better? Sure, they always can, but this case has absolutely nothing to do with politics or the government."
Muscat also dismissed calls for responsibility to be shouldered, arguing that if there was such a need, then it would have been identified by the inquiry.
"The inquiry was carried out in a very transparent manner and all the facts have been revealed," he said. "There were hardly any instances under previous administrations whereby inquiries were ordered into newspaper stories and then published in their entirety."
Bogdanovic, 36, used to play in the UK Championship for Barnsley, Sheffield United and Blackpool, as well as for the Malta national team. He was arrested on 29 October at 7pm when his wife filed a report at the Rabat police station, together with her brother Ferdinando Apap, over a threatening SMS she had received, and because Bogdanovic had pointed a gun to her face and, in another incident, threw an electric fan at her – accusations that Bogdanovic denied later.
However, as revealed by MaltaToday, he was released from police custody the following morning – in time for Xewkija's match against Kercem.
'No more positions of trust' – Partit Demokratiku
Partit Demokratiku, the fledgling party led by independent MP Marlene Farrugia, responded by calling for an end to positions of trust in government.
"All public engagements should be made according to merit and strictly keeping with the needs of the nation," the PD said in a statement.
The party lambasted Muscat's defence of Zammit as "fifty shades of incompetence" and one that sends the wrong message on standards in public life.
"It is an admission that he does not understand the basic tenements of the responsibilities expected of high public office in a normal western democracy, wherein a public purse paid individual occupying a position of trust within the government is expected to refrain from using his public persona to affect his private interests," the PD said. "When employing people in key positions under the guise of ' positions of trust', the 'employer' becomes directly responsible for their actions.
"People in positions of trust are to be scrutinised more by the public, as they are not employed on the base of merit, but on the basis of subjective trust."
The party dismissed Muscat's argument that previous administrations failed to order inquiries into scandals revealed by the media.
"Citing happenings in the last legislature is a lame excuse, since people voted for change and not for more of the same," it said.