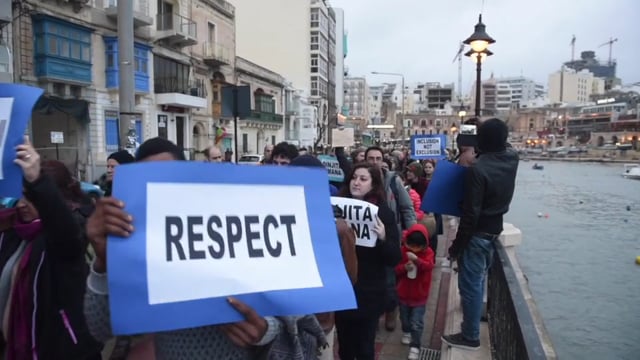 Hundreds walk in solidarity for migrants at risk of deportation.
Some 400 people, including several African migrants, took to the streets of St Julian's in a silent solidarity walk with migrants who have suddenly found themselves at risk of deportation.
Wearing red badges, and holding lit candles and placards with words such as 'Inclusion not exclusion', 'Human dignity and 'Respect', the people marched in silence from the Love Sign to the Balluta square.
The walk was held in protest at the government's decision to revoke Temporary Humanitarian Protection-New (THPn), an ex gratia protection status that used to be granted to failed asylum seekers. THPn holders have now been given until 31 October to procure a valid passport from their countries of origin that will allow them to apply with Identity Malta for residence and work permits.
However, critics have warned that it is nigh on impossible for undocumented migrants to procure passports from their countries of origin
Holding a Maltese flag as he addressed the crowds at the Balluta square, Ali Konate – a Malian technician who has been living in Malta since 2002 – warned that his life is at risk of being wiped away.
"It is hard to see our brothers and sisters going mental by thinking of these problems. They cannot sleep, and are getting injured at work because they are distracted by thoughts of their future.
"Time is ticking until 31 October. What will happen then? What will happen if we need to work, go to hospital, deposit money in a bank? Will we be forced to sleep and die under a bridge?"
Austine Izeku, a Congolese potter who has been living in Malta for over a decade, warned that Africa is rife with civil war, terrorism and corruption, and urged the Maltese government to reverse its decision.
"The African community is passing through a catastrophic period," he warned.
The most powerful moment came when Innocent Lokri and Rita Ogbobor, a Nigerian couple, took to the stage to recount their trauma. Ogbobor and the couple's four children – who were born and raised in Malta – recently received a letter by the Refugee Commissioner ordering them to send copies of their work documents so as to renew their protection statuses. Refugee Commissioner Martine Cassar has since admitted that this was an administrative error and apologized for the mistake.
"Ever since we received that letter, we've all been very depressed," Ogboror said. "My husband looks at our children and cries. All we can do is hope that God comes to our rescue."
Poet Adrian Grima also read the crowds a poem about how the deportations could damage the threads of Maltese society, and university lecturer Colin Calleja read out recent quotes by President Marie-Louise Coleiro Preca in solidarity with the migrants. The event ended with a
rendition of the Maltese anthem, which was sang in unison by Maltese people and migrants alike.
PL whip calls for Maltese citizenship to stateless people
Among the people taking part in the march were government whip Godfrey Farrugia, PN MP Karl Gouder, Democratic Party founder Marlene Farrugia and members of the party's executive and Alternattiva Demokratika chairperson Arnold Cassola.
Speaking to MaltaToday, Godfrey Farrugia urged the government to analyze ways and means to give Maltese citizenship to stateless people who were born in Malta.
"There are children who were born in Malta, grew up in Malta, but are still stateless," he said. "There are people, not only from Africa but also from non-EU European countries, who have been in living in Malta since they were children but have never been recognized as Maltese citizens, even though they can speak the Maltese language as well as I can.
"The government must analyze these exceptional cases and I believe that with goodwill, a solution can be found."