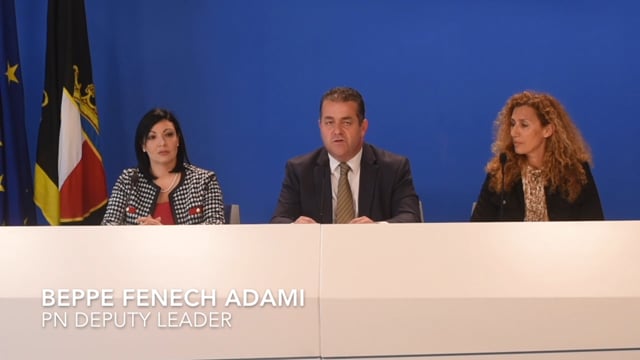 Beppe Fenech Adami plays down lack of active involvement in PN-PD '€˜coalition'€™ talks
Deputy leader Beppe Fenech Adami has insisted that the Nationalist Party's parliamentary group was aware that talks were underway with Marlene Farrugia's Partit Demokratiku (PD), adding that an agreement has not yet been reached.
Fenech Adami was responding to questions put to him following a press conference.
On Friday, Farrugia took to Facebook to hint that an agreement had been reached between the PN and PD, later resulting in media reports that the two parties will be contesting the next general election under the PN banner.
This was met with anger by large sections of the party's faithful as well as a number of MPs and members of the party's parliamentary group, many of whom insisted they had only found out about the agreement through media reports.
Several MPs who spoke to MaltaToday were furious at the lack of consultation, with many even describing the deal as "madness".
In comments to this newspaper, Farrugia confirmed that the PN deputy leaders were never present for meetings held between the two parties.
Informal talks kicked off between Farrugia and Busuttil, until negotiations were handed over to the PN's administrative council president Karol Aquilina and Ivan Fsadni, on behalf of the PD's executive committee.
"The PN's deputy leaders were never present for any meetings held," said Farrugia.
Deputy leader for parliamentary affairs Mario de Marco told MaltaToday that he was aware of the negotiations, but wasn't directly involved in them, while Fenech Adami confirmed that he had not attended the meetings, but was kept abreast of the negotiations.
"Yes, the parliamentary group was aware of the discussions, discussions that are still ongoing and naturally the leader of the party was leading these investigations," said Fenech Adami. "When there is a formal agreement it will pass through the party structures, and will be brought in front of the parliamentary group."
Asked whether the party's General Council would be evaluating the agreement, Fenech Adami did not committee, stating that this will be evaluated once an agreement has been reached.
"Depending on the agreement, it may or may not be necessary for the agreement to either go to the general council or the executive committee or whatever level is required for something like this to go through," he added.
Pressed on whether PD candidates would go through the same process as those contesting under a PN ticket, Fenech Adami said that details will be given once an agreement is announced.