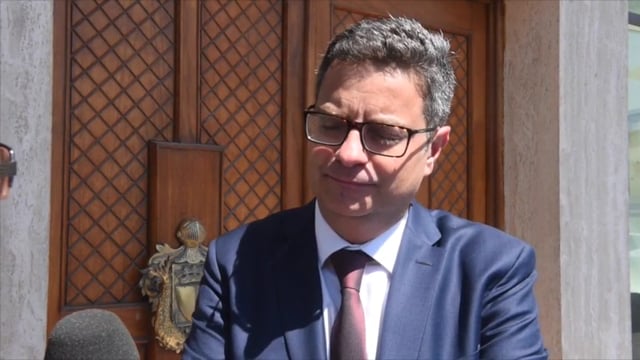 Adrian Delia launches PN leadership bid
The Nationalist Party's machine needs to reinvent itself from the ground up, and needs to start dictating a national agenda instead of simply reacting to other people's agendas, lawyer Adrian Delia said this morning.
"The stakeholders of the party, the councillors and all party members, need to be involved in decision-making and not be left to follow the decisions taken by a small number of people who think they know everything," he said.
Delia launched his campaign for the PN leadership this morning at a press conference on the doorstep of the party's headquarters in Pieta'.
The slogan chosen for the campaign is 'A new way'.
Delia said he had just submitted his nomination, countersigned by over 500 persons and said he was "confident" a PN MP would give up his seat in parliament so that he could become leader of the opposition – if he were to win the leadership contest.
"If I am elected leader in September, the PN will be opening its doors wide open to all its party members and supporters," he said. "My leadership will promote complete inclusion across the board."
He said that the PN was undergoing a renewal and a relative outsider would do the party a wealth of good as it struggled to reinvent itself from the ground up.
"Politics affect the life of everyone, whatever their active participation in party politics is," he said. "I will work to change politics with what I can offer through my service."
He said that he would continue to look at politics objectively, with the view of an outsider, aware of the effects on people and families.
"We need to change how we look at each other," he said. "We also need to tackle poverty effectively, by providing the necessary tools."
Asked about the decision by opposition leader Simon Busuttil to file an application in court, calling for an investigation into minister Konrad Mizzi and Keith Schembri, the prime minister's chief of staff, Delia said that Busuttil realised he had no other option after the failure of the police and other authorities to take action independently.
He said that he believed strongly in the rule of law and therefore could not explain how it had to fall upon the opposition leader to try and ensure the law is followed.
"What Busuttil did in each case will not bring our country back to a sense of normality, and I would take the case up to the Constitutional Court," he said.
As to former PN MP Franco Debono, Delia said he could not understand Debono's relevance to the party and on a national scale in today's political reality, after his decision to leave the PN.
Delia also said that if he were to win the race, the party would immediately decide whether to give a free vote to its MPs on all issues of morality.
"If the party decides to allow a free vote he would immediately inform the prime minister and seek consensus on allowing all MPs to vote according to their conscience instead of using moral issues for political mileage," the Birkirkara FC president said.