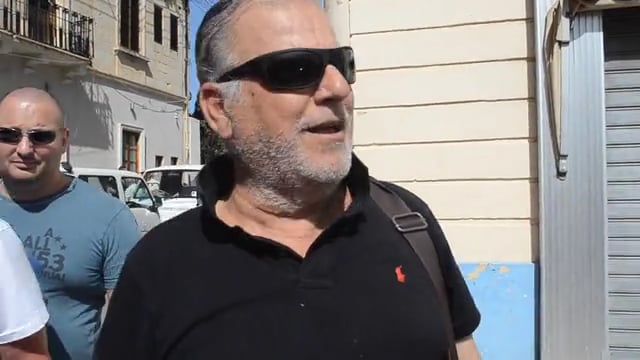 Norman Lowell to MaltaToday journalist: 'Tell Saviour Balzan not to worry, we'll hang him last'
A 'solidarity' march organised by Marsa residents over its concerns on lawlessness in the locality, was on Sunday morning taken over by far-right activists.
"Tell [Saviour Balzan] thank you for your work," Norman Lowell said, in a reference to the MaltaToday managing editor, while confronting this newspaper's journalist at the walk in Marsa. "Tell him, don't worry, we'll hang him last."
Flanked by his Imperium Europa followers, Lowell claimed that the media had abandoned its Maltese audience, "leaving them alone to face the influx of foreigners entering the island's shores."
The demonstration, first spurred on by concerns about unemployed migrants from the Marsa open centre for asylum seekers, attracted the likes of far-right politicians like Henry Battistino, leader of the recently-formed Moviment Patrijotti Maltin (MPM).
The MPM, which garnered just over 1,100 votes or 0.36% of the vote in the 2017 elections, claims its followers are boycotting both MaltaToday and its advertisers.
Battistino indeed refused to comment and insisted that MaltaToday's journalist should be dragged away from the scene of the demonstration, where residents congregated with the aim of "bringing dignity back" to the town.
Battistino ordered police officers to take the journalist away from the site however the police refused to comply with the request, pointing out that the journalist had a right to be present and ask questions.
Anger at the media resounded among the 200-strong demonstrators, where many alleged that newspapers and websites unfairly portrayed the walk as racist after reporting a statement from several mayors of the surrounding areas who said the demonstration was taken over by far-right forces.
The protest was motivated by lack of safety in the area, not by racist sentiments, some Marsa residents insisted. "People are trying to steal our children," said local resident Julie Ellul. "What do you expect me to do?"
Ellul spoke to the crowd in Marsa, saying that the area has given away much of its infrastructure and environment so that Malta can prosper, only to "be broken down physically and emotionally" in return.
"We want a permanent solution that will reassure us that what is going on in Marsa will stop, and that it won't be sent to another town," Ellul continued.
She was visibly emotional, as the resident recounted events that happened in the area: "People tried to steal children away, women are too afraid to sit down on benches alone, people are too scared to go deposit money in the bank."
Despite calls for solidarity, the walk attracted dangerous elements, as one demonstrator said to MaltaToday: "I don't care what they do to them [migrants]. Throw them down a well if need be."
One of the organisers, who refused to be identified, also told MaltaToday: "I disagree with what most of Norman Lowell's values, but we've all ended up where he said we would."