[WATCH] Adrian Delia not excluding PN walkout from parliament to force Muscat's hand
The Opposition leader says the Prime Minister's statement that he welcomes Chris Said's private motion for an inquiry into all allegations made by Daphne Caruana Galizia is positive but more has to be done to strengthen institutions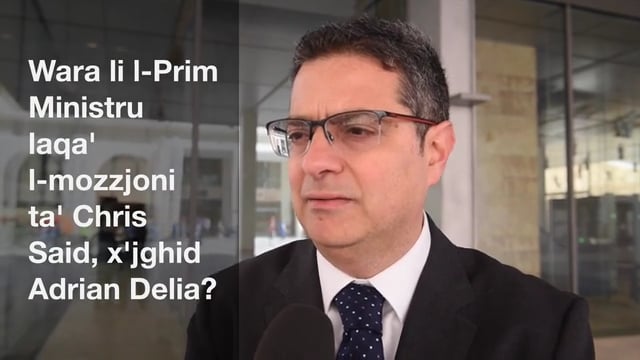 Adrian Delia says the Opposition he leads will not continue with a business as usual attitude in the wake of Daphne Caruana Galizia's murder.
He tells MaltaToday in an interview that the Opposition will do what it takes to ensure the laws are changed and the institutions are strengthened.
Among the requests put forward by the Nationalist Party are the resignations of the police commissioner and the Attorney General.
Delia spoke this afternoon, 24 hours after making a parliamentary statement insisting things could not continue being business as usual three weeks after Caruana Galizia's murder.
What Delia said
He welcomes PM's agreement with Chris Said's motion
Opposition will insist on resignations of police chief and Attorney General
A parliamentary walkout is not exluded
He has a clean conscience
He called on Prime Minister Joseph Muscat to kick-start the process for a constitutional convention so that in six months' time the laws that have to be changed to strengthen the institutions would come into force.
Delia said Muscat's statement yesterday that he welcomed PN MP Chris Said's private motion for a broad inquiry, was a positive development.
"Politically, it also signals the Prime Minister's acknowledgement that the institutions have failed to proactively investigate claims that were in the public domain," Delia said.
Asked whether the Opposition would support Said's motion – Delia had publicly commented on the fact that his MP had simply informed the parliamentary group of his intention without bringing the motion up for debate – Delia said it still had to be discussed internally.
However, he insisted, the Opposition had made demands that went way beyond what the motion was asking for.
Asked whether the Opposition was considering a parliamentary walkout to force change, Delia said nothing was excluded.
"These are symbolic moves to push forward our point that there has to be immediate action but we will also be present in Parliament to ensure the laws that have to be changed are changed," he said.
The PN leader played down the result of a survey on It-Torca, which showed the gap between the major parties growing even wider, insisting the Opposition's interest was not popularity.
When quizzed about his moral authority to lead this battle – Delia was on the receiving end of heavy criticism and serious accusations made by Caruana Galizia before her murder – the Opposition leader said he slept with "a clear conscience".
He insisted this was not about him or the political parties but about the country. "My challenge is to convince more people every day that we are doing this for the country and our children," he said.