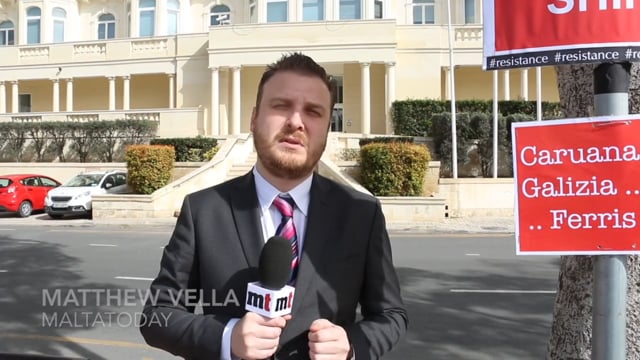 Pilatus Bank chairman Ali Sadr Hasheminejad arrested in the US
Civil society activists said the banking licence of the private bank Pilatus should be revoked by the Maltese financial regulator, after its chairman was arrested in the United States.
Ali Sadr Hasheminejad is facing serious accusations of bank fraud and money laundering for having breached US sanctions when he facilitated US dollar payments to Iranian beneficiaries in a Venezuelan housing project his family's company was involved in.
"This bank is a pigsty of corruption," activist Manuel Delia said, flanked by Nationalist local councillor Michael Briguglio. "The authorities repeatedly refused to carry out a serious examination of the bank's operations," he said, referring to allegations made by the late journalist Daphne Caruana Galizia.
The crimes Hasheminejad is charged with predate the bank's licencing in Malta, which started in December 2013 and was finally completed in 2015. Delia said the arrest in the US raises questions on the type of due diligence carried out by the MFSA and later the Financial Intelligence Analysis Unit which gave the bank a clean bill of health after first reporting its operations to the Commissioner of Police.
"We're here to state the obvious: the banking licence of Pilatus Bank should be repealed by midday," Delia said.
The bank is already the subject of various magisterial inquiries, namely in connection to the allegation that it transferred $1 million from the Azerbaijani ruling family to the prime minister's wife, and of hosting bank accounts for the prime minister's chief of staff Keith Schembri to receive payments from the auditor Brian Tonna, reportedly from the sale of Maltese citizenship to Tonna's clients.
"Malta's laws must be investigated by the Maltese authorities… the bank's reputation is now tarnished by the fact that its owner is in handcuffs in the United States," Delia said. "We will press on for action to be taken."
Michael Briguglio said the activists were still demanding the resignations of the PM's chief of staff and minister Konrad Mizzi, who set up offshore companies in Panama, as well as those of the Commissioner of Police Lawrence Cutajar and Attorney General Peter Grech for not investigating the Panama Papers and allegations about Pilatus Bank.
US authorities ended impunity of Hasheminejad operations
In a statement the Daphne Caruana Galizia's sons said US authorities had "ended the impunity with which Hashemi Nejad operated".
Pilatus banked had filed a defamation suit against Caruana Galizia in the US, which was withdrawn the day after she was killed on 16 October.
"Their action vindicates our mother's work, but it has come at a terrible cost. One of our mother's sources, a woman who worked at Pilatus Bank, now sits in an Athens prison cell, and our mother is dead," they said.
"While the Maltese police were pursuing this source with a European arrest warrant obtained on false charges of misappropriation of a few hundred euros, her former employer was facing charges for laundering hundreds of millions. As if a more damning indictment of the institutional failure in Malta were needed."
The three brothers stressed that until an independent inquiry into "Maltese institutional failure" took place, Malta would remain a "haven for people like Ali Sadr Hasheminejad.
"Hashemi Nejad may finally face justice for some of what he's done, which gets us closer than we've ever been to broad justice for our mother's work. We wish our mother could have been alive to see it happen."