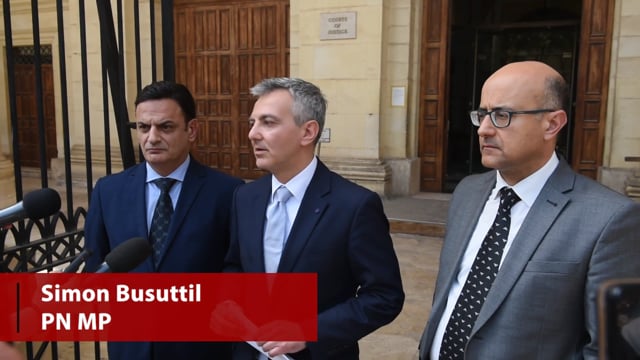 David Casa and Simon Busuttil file court application to seek money laundering investigation into Konrad Mizzi and Keith Schembri
Former Nationalist Party leader Simon Busuttil and MEP David Casa have asked the court to investigate money laundering activity by Konrad Mizzi and Keith Schembri.
In a court application filed this afternoon with the duty magistrate, Busuttil and Casa said the revelations made by The Daphne Project and the FIAU report in Casa's possession point towards an organised money laundering operation.
The application makes reference to the amounts transferred to 17 Black, a Dubai company, totalling €1.3 million.
The funds originated from a Seychelles company owned by an Azeri and another associated with the gas tanker berthed at Delimara.
Busuttil and Casa said the funds from 17 Black were to flow into the Panama companies belonging to Mizzi and Schembri, to the tune of €150,000 every month. The information comes from emails sent by Nexia BT, an advisory firm, and published in the international press.
The damning email showed that 17 Black and Macbridge, another Dubai company, were 'target clients' for the Panama companies held by Mizzi and Schembri. In a reaction this week, Schembri confirmed that the Dubai companies were included in draft business plans for his group of companies.
Standing outside the courthouse, Busuttil said this week's revelations were damning. "Konrad Mizzi and Keith Schembri have been taking everyone for a ride and in the process they have sheltered behind the protection of Joseph Muscat. The longer they continue running the country the deeper our country's reputation will sink," he said.
Casa insisted that resignations were not enough because the evidence against Mizzi and Schembri was overwhelming. "They must be brought to justice and Joseph Muscat must shoulder responsibility," he said.
The court application calls on the magistrate to investigate Mizzi, Schembri, Nexia BT's Brian Tonna and Karl Cini, and Mario Pullicino, who represents the company linked to the gas tanker that transferred money to 17 Black.
The application was signed by lawyer and PN MP Jason Azzopardi.