[WATCH] We asked Joseph Muscat why he ignored 17 Black evidence at Workers' Day mass meeting
Prime Minister Joseph Muscat did not mention 17 Black or its ties to Konrad Mizzi and Keith Schembri in the mass meeting on Workers' Day, choosing however to talk about the Egrant allegation involving him and his wife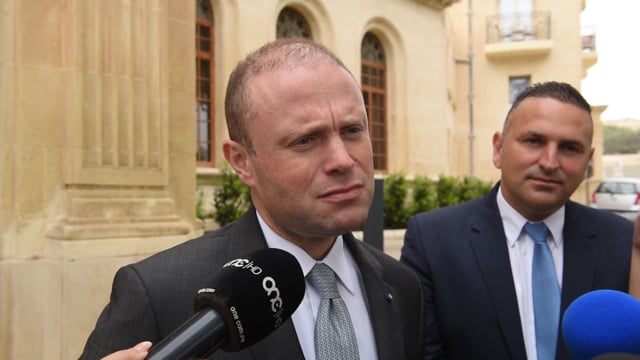 Joseph Muscat refuses to justify his silence on 17 Black evidence
Prime Minister Joseph Muscat has continued avoiding the allegations against his two most trusted aides, chief of staff Keith Schembri and Tourism Minister Konrad Mizzi.
During his speech at Tuesday's mass meeting, Muscat made no mention whatsoever of new evidence revealed by the Daphne Project that established a clear link between 17 Black, a company registered in Dubai, and the Panama companies owned by Mizzi and Schembri.
When asked again today about his refusal to comment on the development, Muscat insisted he will not comment while magisterial inquiries into allegations of graft, corruption and money laundering were still underway.
And yet, he continued to defend his decision to speak about claims first raised by Daphne Caruana Galizia in his own regard, when she cited a whistleblower at Pilatus Bank saying that his wife Michelle was the ultimate beneficial owner of Egrant. Egrant was the third secret Panama company to be opened alongside those of Schembri and Mizzi and whose owner was never revealed.
The Egrant claims are currently the subject of yet another inquiry by Magistrate Aaron Bugeja, after Muscat had asked the court to launch an investigation when the claims first surfaced one year ago.
The Muscats have strenously denied the allegations, with the Prime Minister describing them as the "biggest political lie to ever be told".