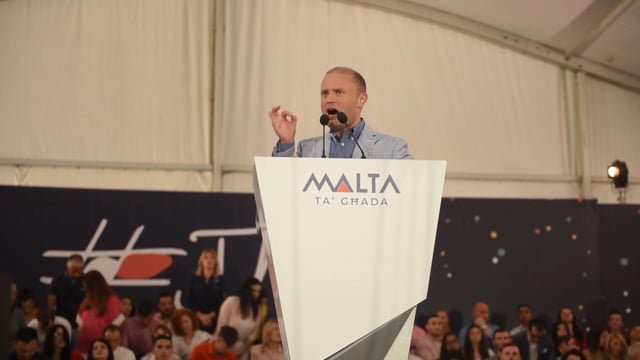 Tributes for Joseph Muscat at his leadership anniversary rally in Paola
Labour leader Joseph Muscat was exhorted to "stay on" at a rally commemorating his leadership's tenth anniversary that attracted thousands of supporters to Paola.
Muscat came onto the stage together with his wife and two children to a rapturous welcome that did not go unnoticed by the unctuous emcee Alfred Zammit. "It is understandable that people feel 'positivity' upon seeing the Muscat family," the TV presenter said.
The rally was firstly addressed by academic and poet Norbert Bugeja, Rebecca Buttigieg from Labour's LEAD programme for women, and former deputy prime minister Louis Grech, who treated Muscat to a lengthy eulogy.
Muscat treated his audience to stock phrases from his playbook, celebrating Labour triumphs on job creation, social justice and civil liberties.
But he stayed clear from hinting at his future political plans, after deputy prime minister Chris Fearne penned a column for The Times on Wednesday morning calling on Muscat to lead Labour to a third electoral victory. Muscat has already twice declared he would not run in another general election. "We're only halfway there," he told Labour supporters tonight.
Muscat was adamant that his administration would usher in institutional changes that will strengthen women's political participation, a hint at the introduction of quotas for elected MPs. "There has been too much talk now. Although this has been genuine talk, we have failed. We now need institutional change, and the people have voted for it. We have the mandate and will for change."
Muscat also paid tribute to Dom Mintoff's vision to host a mosque and Muslim school staffed by Christian teachers. "He knew back then that Malta's horizons were widening... and this is where we see Malta heading to, a truly cosmopolitan country."
He summed up his administration's economic vision as having put paid to the "days of pitting worker against employer" and said that everybody was entitled to work harder and achieve more. "Work begets work, wealth begets wealth, and positivity begets positivity," Muscat added, reminding supporters of his administration's record unemployment levels, reduced national debt, and increased capital spending. "This is the winning generation we have created."
He paid tribute to Malta's marital equality laws, the removal of theatrical censorship and vilification rules, rules against domestic violence, free IVF, and extending suffrage to 16-year-olds as proof of "the change of atmosphere" in the country. "This change was not down to me, but to you who gave us your trust, and our united team and its one vision."