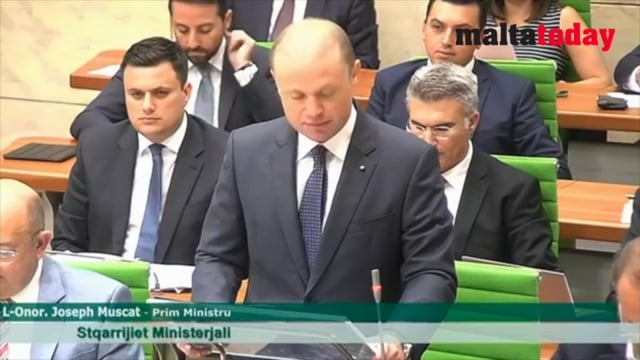 Prime Minister Joseph Muscat gives statement on Aquarius stand-off
Prime Minister Joseph Muscat said this evening that Malta was prepared to offer medical assistance to rescued migrants on the Aquarius that were in "precarious situations".
Muscat was delivering a ministerial statement in parliament on the latest developments in the standoff between Italy and Malta on the migrant rescue vessel Aquarius. Spain agreed on Monday afternoon to take in the ship after it was refused entry by both Italy and Malta.
The government, Muscat said, had been contacted by the UNHCR regarding some people onboard who might need specific and urgent medical attention.
"We said that we are willing to help those in a precarious situation," Muscat said, adding that a few hours earlier Malta had sent food and supplies to the vessel.
"We did this despite there not having a been a request for it but because we understand the situation."
At 5:00pm MSF Sea tweeted that people onboard the Aquarius were getting increasingly anxious and desperate.
"MSF has informed everybody about the current situation. One man threatened to jump overboard, saying he was scared he would be returned to Libya," tweeted the NGO.
UPDATE: People onboard #Aquarius are getting increasingly anxious and desperate. #MSF has informed everybody about current situation. One man threatened to jump overboard, saying he was scared he would be returned to #Libya. pic.twitter.com/n0pR8a6Cu0

— MSF Sea (@MSF_Sea) June 11, 2018
In a subsequent tweet, MSF Sea said that Valencia was 1,300Km away, which meant a three-day journey for those onboard.
With the vessel over its maximum capacity, it said that the "health and safety of people rescued onboard including sick and injured people, pregnant women and children must come first", adding that it had not yet received any communications from Rome or Madrid.
Spain's offer of safe port Valencia is 1,300 kilometers away - further 3 day journey with #Aquarius already well over maximum capacity. Health and safety of people rescued onboard including sick + injured people, pregnant women + children must come first. https://t.co/YzQNnbxkEJ

— MSF Sea (@MSF_Sea) June 11, 2018
Muscat reiterated that the rescues had taken place on Saturday night within the Libyan search and rescue region and was coordinated by the Rome rescue coorindation centre, adding that it was Rome that decided that all migrants rescued on Saturday night should be transferred to the Aquarius.
Read more: Spain will take rescue ship with 629 migrants on board
He said that some of the migrants had been rescued by Italian navy vessels, and that Italian authorities had decided they should be transferred to the Aquarius because it was able to give them shelter.
Muscat explained that as the vessel was travelling towards Italy, it had received orders from Rome to proceed any further. He said that countries could not give orders like this as they were against international maritime law.
"These instructions could easily have escalated the case into a humanitarian crisis," said Muscat.
Malta, he said, had always adhered to its international obligations, a sentiment he said he had conveyed to his Italian counterpart Giuseppe Conte.
The Prime Minister pushed back against claims that Malta's position was a populist one, pointing out that Malta was one of the EU member states that processed the most asylum applications. "Nobody in Europe can turn to us and say we are not doing our part."
Had the government been a populist one, Muscat said it would have sought to gain political mileage from the fact that boat arrivals had fallen significantly in recent years.
While the government would keep defending Malta's interests, it would not allow others to use such situations to stoke racist sentiments, continued Muscat.
Opposition stands with government
Opposition leader Adrian Delia on his part said that the situation was a delicate one that required Malta to safeguard people's lives as well as international laws.
"Yesterday I said that the national interest must come first and foremost and that whatever the government does to safeguard our country's interest the Opposition will support it," said Delia.
He said that media reports placing Malta and Italy in the same basket were incorrect given that Malta had been consistent and had broken no international law.
Read more: PN MEP Roberta Metsola takes dig at Malta Prime Minister Joseph Muscat
Delia stressed the importance of Malta being consistent and observing international laws, adding that the principle of rescued migrants being taken to the nearest safe port should have been applied.
The Opposition leader added however that it was also important to understand that the plight of those looking to escape violence and exploitation could not be ignored.
"On issues of national interest, not only will we stand with the government, but we will also work within the EU for bigger countries that have much more resources not to take a back seat and do nothing," he said.
He said the government and Opposition needed to ensure that they presented a united front in dealing with what was ultimately a European issue that pitted different states against each other.
Clear rules for NGOs needed
Reply to questions by several MPs, Muscat said that while NGOs were doing good work saving lives in the Mediterranean, their work also needed to be regulated.
He said EU was currently spending millions in training the Libyan coast guard using funds coming from Malta and other European countries.
He said that there was an understanding that Libyans needed to be able to take care of their own waters and should be allowed to do.
"I am not criticizing NGOs but there need to be a clear set of rules," the Prime Minister said.
While there was a lot that could be done better by the EU when it came to migration, he said he was with the fact that there was better coordination to receive people travelling through the desert, before they arrived in Libya.
He said there were outposts in strategic countries like Niger and Chad, where "the EU is doing very important work".
The Prime Minister also noted that Malta was one of the few countries in the EU that had fulfilled all its obligations when it came to relocation of migrants from other EU member states.
Muscat and Sanchez discuss migration
in a statement published on Tuesday evening the Office of the Prime Minister said that Muscat and Spanish Prime Minister Pedro Sanchez held a telephone conversation in which Muscat thanked his counterpart for accepting to take in the Aquarius.
According to the statement, the two Prime Ministers "discussed migration and the situation in the Mediterranean, and expressed their mutual willingness to work together at bilateral and European levels".