[WATCH] Updated | EU Justice Commissioner looking to determine whether Pilatus case was isolated or part of systemic problem
Commissioner Vera Jourova said she was concerned that Malta seems to be unable to enforce money laundering legislation • She also said she found no reason to believe there is any undue pressure on the judiciary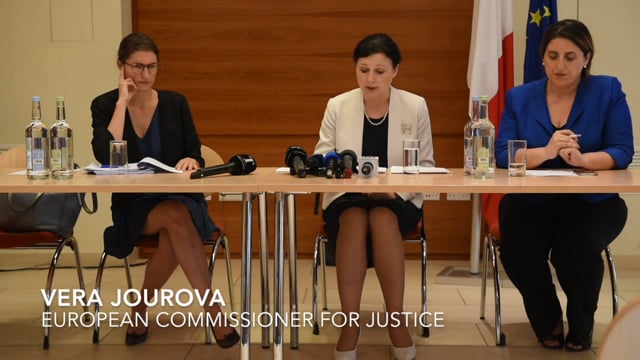 Malta has anti-money laundering 'gaps', EU's banking authority should investigate FIAU, Commissioner Jourova says
Justice EU Commissioner Vera Jourova has said she is "very worried" about how the case of Pilatus Bank has been handled by Maltese authorities and that it appeared that there were certain gaps in the country's ability to enforce anti-money laundering legislation.
The commissioner is currently on a fact-finding mission to Malta to investigate Malta's Individual Investor Programme (IIP) - commonly known as the citizenship scheme- the measures in place to combat money laundering, as well as to get an update on the investigation into the murder of Daphne Caruana Galizia and investigate the impartiality of the judiciary.
On Thursday, Jourova met with Justice minister Owen Bonnici, EU affairs minister Helena Dalli, IIP CEO Jonathan Cardona, representatives from the Financial Intelligence Analysis Unit (FIAU), the Chamber of Advocates, the Association of Judges and Magistreates and Chief Justice Joseph Azzopardi - all of whom, she said, provided her with the information she requested.
She said that while Malta was "undoubtedly an economic success story, there were worrying events that had drawn the attention of Europe to the island.
"My role as justice commissioner is to sometimes ask difficult but honest questions," said Jourova.
Gaps in combatting money laundering
The commissioner noted that Malta had not yet implemented the EU's fourth money laundering directive. She was assured by Bonnici that this would be done in due course but did not elaborate on whether an indication had been given as to when this would happen.
She said that she was deeply concerned about the events surrounding Pilatus Bank, which she said showed "challenges" Malta was having in enforcing the existing money laundering regulations.
She said that for this, reason she had instructed the European Banking Authority (EBA) to look into the case, while strongly recommending that local authorities comply with the EBA.
She acknowledged that Malta was not the only country facing such difficulties and vowed to visit as many countries as possible in order to apply pressure in this regard, before here mandate is up.
Asked whether it appeared there was willingness on the part of local authorities to transpose the necessary directives, and to ensure their enforcement, Jourova said that there were to sides to issue.
"One is what there is on paper, and I am convinced that Malta will be doing everything to have the transposition done," said Jourova.
"The second is how rules are applied in practice and here I want to see more activity and a better functioning system because the Pilatus Bank case revealed that there are some shortcomings and the question remains whether it is just this one case or whether it revealed a systemic problem.
"Any time we systemic problem with the implementation of EU law the Commission has the possibility to launch infringement procedures," she said, adding that she had instructed the EBA to delve deeper into the case.
"We don't want the EU to become a safe haven for people who want to launder money."
Citizenship sale must be linked to demonstrable residency
Jourova also had stern words to say regarding Malta's sale of citizenship scheme, emphasising that becoming a Maltese citizen also meant granting EU citizenship, with all the rights that brings with it - including free movement.
"The Commission's role is to ensure EU citizenship is only given to people who contribute to a member state - it should only be granted to those with a real link to the country, and who reside there for at least one year," she said, underlining that she wanted to ensure this condition is respected.
"When an EU member decides to grant citizenship, it means it's taking a decision for all other member states. We must not enable suspicious people to come to Europe and get citizenship, to use it for money laundering, or to cause a security risk. The Commission has a legitimate right to require some basic requirements, all at the end of the day, it is the decision of the state," she said.
Caruana Galizia murder a wake-up call
Jourova said that the murder of journalist Daphne Caruana Galizia was a "wake-up call" for many across Europe which showed that "many things are related to one another… money laundering, the rule of law…"
The commission, she said, expected a thorough and independent investigation to find out who ordered the murder.
"We need to know the full truth," she insisted. "The mastermind of this murder cannot go unpunished and there is no place in EU for the murder of journalists. This is not only a Maltese issue because the freedom of the press is at stake."
She said that she was due to meet with murder's investigators on Friday, adding that politicians needed to do their utmost to create an environment where journalists can do their job properly.
"They day journalists are afraid to write something we are all in trouble."
No concerns over judiciary's independence
Jourova said that upon her arrival to Malta she had many questions about the impartiality of the judiciary and "any possible pressure".
"I didn't get any worrying indications or information that the judiciary is under pressure. I didn't get such information," she said.
The Commissioner also welcomed Malta's decision to join the European Public Prosecutor's Office, noting that after announcing that it would do so, the government today provided her with an official notification of this.
She remarked that the more countries participated, the more efficient the fight against EU budget fraud would be.
Asked about whether she was concerned about the fact that cryptocurrency exchanges were already operating in Malta, despite it not yet having passed the necessary legislation regulating them, Jourova said that this was why cryptocurrencies had been included in the latest money laundering directives.