[WATCH] Lifeline standoff: Ship to dock in Malta as Joseph Muscat announces migrant distribution deal with other EU countries
Prime Minister Joseph Muscat said Malta has secured commitments from seven EU countries to take in migrants from the Lifeline, which has been given permission to disembark people on the island • Ship will be impounded and investigated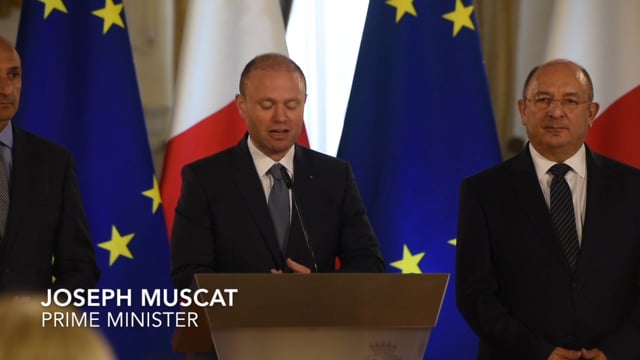 The Lifeline will be allowed to disembark 234 migrants in Malta after an ad hoc agreement with seven EU member states, Maltese Prime Minister Joseph Muscat said.
The ship will be impounded upon arrival in Malta and the captain's actions in this "unique case" will be investigated, Muscat told a media conference on Wednesday.
The Prime Minister said Malta, Italy, France, Ireland, Luxembourg, Portugal, Belgium and the Netherlands had pledged to distribute the rescued migrants between them once they were processed. The confirmations from Belgium and the Netherlands came while Muscat was addressing the conference.
He did not give details of how the migrants will be distributed.
"It is too early to say how migrants will be distributed but it is safe to say that every member state will take migrants according to their capability but first we have to differentiate between asylum seekers and economic migrants," Muscat said. He admitted that some member states have refused to collaborate.
"This is an ad hoc agreement on this particular case… this was not like other instances which saw two member states in conflict but a situation precipitated by the actions of the captain who chose to ignore orders given to him by the Italian authorities that were coordinating the rescue," Muscat said.
The Lifeline is expected to make landfall in Malta this evening and migrants will be given immediate medical attention.
READ MORE: NGOs refute that migrant rescue groups are breaching international law
The processing of asylum claims will also commence in Malta and anybody not eligible for protection will be returned to country of origin with the help of EU institutions.
Muscat said the ship will be impounded and the captain investigated on at least two counts: the seemingly inadequate registration of the ship with the Dutch authorities and the decision to switch off its transponder at various times.
The Prime Minister said that according to the Dutch authorities the ship was "stateless".
While the Prime Minister was addressing the media at Auberge de Castille, outside a group of activists from the Maltese Patriots Movement unfurled a banner calling for a stop to human trafficking. The message was directed towards the NGOs operating rescue ships in the Mediterranean, which have been labelled by detractors as 'taxi services' for migrants departing from Libyan shores.
The activists also called on politicians to 'defend Europe'.
At the same time, a handful of individuals were demonstrating in front of Parliament calling for European solidarity on the migration issue.