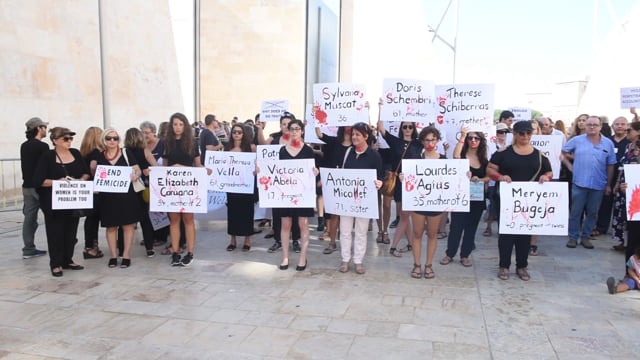 Hundreds march in Valletta against domestic violence
Some 200 people of all ages have taken to the streets in Valletta for a march against femicide in Malta in the wake of a woman's apparent murder at the hands of her husband last week.
The Women's Rights Foundation organised the march, protesting against what it says are worrying rates of femicide.
Last week, Lourdes Agius, a mother of six, was found dead by her mother after having allegedly been murdered by her husband. She was found with significant bruise marks around her neck which indicate that she may have been strangled.
26 women have been killed by their partners in the last 20 years - four in the last three months.
"This is unacceptable and should never be tolerated. We continue to live in a misogynistic and patriarchal society where women are blamed and their action or lack thereof are questioned," the organisers of the march wrote on the event's page.
People at the march held placards with the names of victims of domestic violence in Malta in recent years and chanted "not one more" as they walked down Republic Street. Both Prime Minister Joseph Muscat and President Marie-Louise Coleiro Preca were present. Democratic Party MP Godfrey Farrugia, Nationalist MP Claudette Buttigieg and former AD Chairperson Arnold Cassola could also be seen among the demonstrators.
"Time and time again many question the behaviour of the victim and not the perpetrator. It is men that kill women and not the other way around," the organisation said.
In a statement issued Saturday morning, Alternattiva Demokratika deputy chairperson Mario Mallia expressed his solidarity with victims of domestic violence and committed his party to doing its part to tackle the issue. He told the press that solidarity required action. "The roots of the domestic violence problem are cultural. The fact that half the population still believes that women exaggerate when they report violent incidents as well as that violence against women is provoked by the victim, are a testament to this."
These beliefs led many women to be too scared to report violent incidents and hold back out of fear of not being believed and had tragic effects with several victims being murdered over the years.
Malta had a long way to go to address attitudes that were leading to so much suffering he said. AD insisted that there was an urgent need for the State and the courts to give clear messages in favour of victims of domestic violence and to deal harshly with perpetrators.
AD also emphasised the importance of education, urging mixed schooling together with a coordinated effort, particularly where boys are concerned, to "slowly but surely create a generation that respects the equal dignity of all, independent of gender."
"There have been a lot of improvements and laws, but it's not enough" veteran women's rights activist Marceline Naudi told the MaltaToday, "we need to have the people on the ground dealing with the women face to face, properly trained." Although there had been many attempts for this to happen they had clearly not been successful, because if they were "we wouldn't continue to have all of these [murders]."