The Women's Rights Foundation has called out statements made by the CEO of the Foundation for Social Welfare Services for "victim-blaming" women in situations of domestic abuse and violence.
The WRF said Alfred Grixti was effectively blaming women for "remaining" in situations of domestic violence, in an interview he gave to the newspaper It-Torca, when he claimed this was what led to femicide.
Grixti, appointed to the post by the Labour administration in 2014 and currently a deputy mayor of Haz-Zebbug elected on the Labour ticket, has insisted cases of femicide are related to long periods of abuse in which women do not exit the violent relationship. "There must be a trend. We have to be careful about classifying these 'out of the blue' murders as a product of domestic violence… the FSWS has been on the forefront on cases of domestic violence, and we did not wait for NGOs to hold their rallies."
But the WRF said this was another case of victim-blaming. "It is tragic that a head of an authority tasked with supporting victims fails to understand the issue at such a basic level.
"We are disappointed to see that the same CEO has publicly declared that FSWS will not cooperate with Women's Rights foundation. This is sad indeed since from its inception, WRF has worked round the clock with social workers within Agenzija Appogg, particularly the hardworking and dedicated Domestic Violence Unit to ensure that victims are provided with the best support."
WRF said Grixti had taken this decision purely on ideological grounds, because WRF was supporting sexual and reproductive rights.
"It is nothing short of unbelievable," the WRF said. "The cost of his dogmatic decision will be borne by the very people his agency is supposed to serve and protect. Not to mention that this goes explicitly against the spirit of Istanbul convention, which is the law of the country that clearly states that cooperation between state entities and NGO should be encouraged."
Grixti was quoted as saying that it was "a big irony" that the WRF, which promoted the march against femicide, was speaking in favour of abortion, while a Church organisation 'Ejjew Ghandi' had also participated. "They should always be pro life. I believe you cannot choose on this. It is ironic to march against violence on women and then being in favour of abortion. And this is not a religious issue. As a Foundation we are legally responsible for the safeguarding of children, because they are the most vulnerable. We have often placed care orders on children are not yet born, especially in cases of drug abuse. As a national agency we cannot be shoulder to shoulder with who is in favour of abortion… when a pregnant woman is killed, it is indeed a double murder."
Grixti also claimed in the interview that the "majority of NGOs" that participated in the march against femicide on Saturday received state funding to the tune of €10 million.
"We would kindly ask him for more details, because if that's the case, we want our share. WRF has never received state funding… the increase in resources NGOs demanded clearly referred to resources allocated to the police, judiciary and, yes FSWS. We are painfully aware that introduction of the Istanbul Convention will put more pressure on their allocated budgets and that they will simply need more. It beggars belief that one could think that this is a bad thing."
The WRF said social workers, who are employees of the FSWS, work tirelessly with the NGO day and night to provide the most vulnerable with the best possible service available. "They are the pride and honour of their foundation and deserve all respect for their efforts."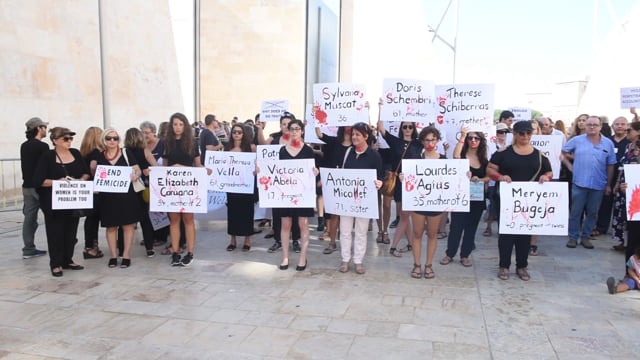 Women march against domestic violence and femicide