[WATCH] Adrian Delia reiterates call for investigation of PA private jet incident
Opposition leader Adrian Delia insisted the PA decision to bring over a board member by private jet was symbolic of an incestuous relationship between government and its authorities but stopped short of calling for resignations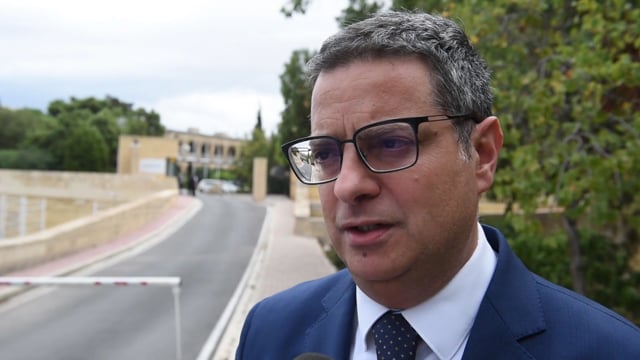 Adrian Delia on PA private jet controversy
Adrian Delia has fallen short of calling for resignations over the hiring of a private jet by the Planning Authority to bring over a board member for the vote on the db project.
The Opposition leader insisted instead that the incident opened "a Pandora's box" of new questions on the government's role in decision making as he reiterated his call for an investigation into the authority's actions.
Delia said that the PA 's decision to pay €8,750 to bring its board member, Jacqueline Gili, to Malta from Sicily to participate in last Thursday's vote, raised questions regarding the ways things were done at the authority.
"The private jet incident showed there is an incestuous situation in the government, where good governance is absent and people's role [within government and its authorities] is not clear," Delia said.
He was speaking this afternoon in front of the PA offices in Floriana. Delia was unaccompanied for the press conference during which he used most of the time to describe what happened last week.
"Everything the PA CEO, the Transport Minister and the Prime Minister said only served to raise more questions," Delia said.
But the PN leader stopped short of calling for any resignations when asked whether anyone's head should roll over the controversy.
"Joseph Muscat said he hadn't been informed of the decision, but did not say whether or not he actually was obliged to have been told about it, and why. There is a situation within the PA, where it determines all planning decisions without us knowing the extent of the roles of the people within it," Delia said.
In comments to Times of Malta, PA CEO Johann Buttigieg defended his decision to bring over the PA board member by private jet. Buttigieg said he did not want to risk a situation where doubts were cast on a decision because of the absence of board members.
He was referring to the Town Square project in Sliema, which had been approved by a single vote by the PA in 2016, in a meeting during which the chairperson of the Environment and Resources Authority, Victor Axiak, had been absent because of illness.
Buttigieg said he would be "stupid" to repeat the decision to bring over a board member, given that both the Prime Minister and the minister responsible for the PA had expressed an opinion against it.