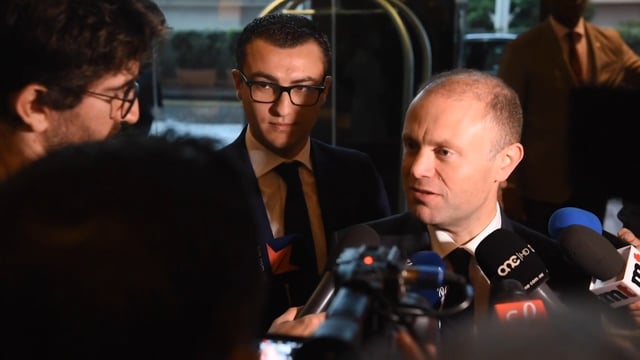 Joseph Muscat insists he will await for the inquiry to end before acting on 17 Black
Prime Minister Joseph Muscat has stuck to his script over the recent revelations on 17 Black, insisting that he will take any decisions related to Keith Schembri and Konrad Mizzi only after a magisterial inquiry is concluded.
Muscat skirted a question when asked whether he sought clarifications from his Chief of Staff Keith Schembri over the inclusion of 17 Black as a target client for his Panama company. In April, Schembri admitted in a press statement that the Dubai companies 17 Black and Macbridge formed part of business plans for his Panama company Tillgate but nothing came of those plans.
"My chief of staff was involved in business [before his public appointment] and I will not get involved in that... Keith Schembri has always given the necessary information whenever asked by the authorities," Muscat said.
READ ALSO:
Unravelling the 17 Black mystery
Five holes in Joseph Muscat's delaying tactic
He was taking questions from journalists after addressing a conference organised by the Malta Institute of Accountants on Friday morning.
Muscat said he would resign if the inquiry found any wrongdoing on his part, insisting he wanted to wait for its conclusions before making his decision on whether Schembri and minister Konrad Mizzi should resign.
The inquiry that should be investigating the 17 Black allegations was requested by former Opposition leader Simon Busuttil last year. However, it is being appealed by all the parties involved, including the Prime Minister.
Asked whether he would drop the appeal so that the inquiry could proceed, Muscat justified his actions. "I was dragged into something in which I was absolutely not involved and this is why I appealed... it was Simon Busuttil who opted to lengthen the process by appealing against the choice of judge because he was not to his liking," Muscat said.
A Reuters-Times of Malta investigation last week named businessman Yorgen Fenech as the owner of 17 Black. Fenech did not deny ownership of the company. He is an investor and director of Electrogas, the company that won a multi-million euro tender to build and operate the new gas power station.
17 Black and another Dubai company, Macbridge, were listed as "target clients" for the Panama companies acquired by Schembri and Mizzi in 2015.