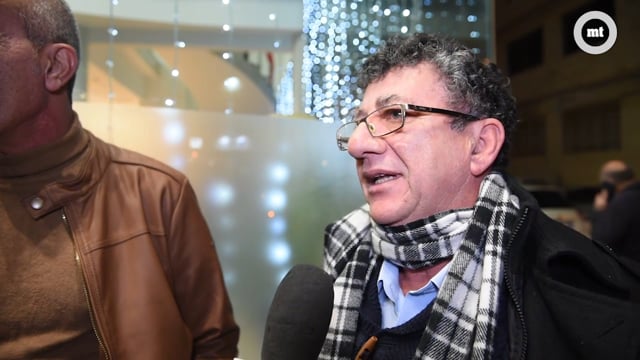 Nationalist Party activists attending an annual social gathering organised by the party declared their support for leader Adrian Delia, insisting that allegations were not enough to merit his resignation.
Delia has been facing calls for his resignation ever since it emerged from court documents that his wife had accused him of domestic violence towards her and their children. The couple, who have five children together, are currently going through an acrimonious separation.
Since the allegations were made public, a series of leaked videos and recordings, as well as screenshots seemingly taken from Delia's phone have been doing the rounds on social media.
In addition to calls by civil society for Delia to step down, he is also facing a revolt within the PN parliamentary group. Sources who have spoken to MaltaToday have said that the embattled leader has lost the support of a majority of MPs, but still retains the support of a considerable portion of the party's grassroots, complicating any attempts to force him out.
MaltaToday attended the gathering and asked a number of those present how they felt about the current situation facing the party. Sources who spoke to this newspaper earlier today said that while the event was held every year, Delia's supporters were being urged to attend to send a message to those who are opposing his leadership.
A majority of those who were happy to share their views insisted that they were behind their leader and saw no reason for him to resign.
"Those who opened companies in Panama didn't resign so why should Adrian Delia?" one activist said when asked if he believed Delia should step down for the good of the party.
Activists insisted that as things stood, there were only allegations which still needed to be proved.
READ MORE: Adrian Delia says no PN MP has told him to his face that he must go
Asked whether they were concerned by the fact that the party appears to be more divided than it has ever been, the majority played down the severity of the situation, insisting that it was normal for there to be disagreements in political parties.
"Rather than a divided party, I think there are always going to be people who want their man to be leader," one activist said.
Delia was elected by the party's members just over a year ago, the first leader to have been elected by the party's paid-up members, rather than councillors.
"The last administration had introduced the principle that the leader is not elected by the councillors or party officials, but by the party members," yet another activist told MaltaToday. "Now if the members gave him their approval, the party must follow their decision."
A number of those present, said off camera that while the event was organised every year, this year's attendance was far greater than usual.
Among those present were MPs Edwin Vassallo, Carm Mifsud Bonnici, Hermann Schiavone, Kristy Debono, Robert Cutajar and Mario De Marco. Secretary General Clyde Puli, deputy leaders David Agius and Robert Arrigo were also spotted among the crowd, as was MEP candidate Dione Borg, MEP candidate Frank Psaila and MEP Francis Zammit Dimech. The event was not open to the media and it is likely that other key party figures were also present.
In his address, Delia told those present that while some like to believe that the PN was finished, the today's attendance told a very different story. He said that party was at a crossroads and has "never had such a golden opportunity to go back to its roots".
READ MORE: Stop playing games and come forward: Clyde Puli's challenge to PN's rebels