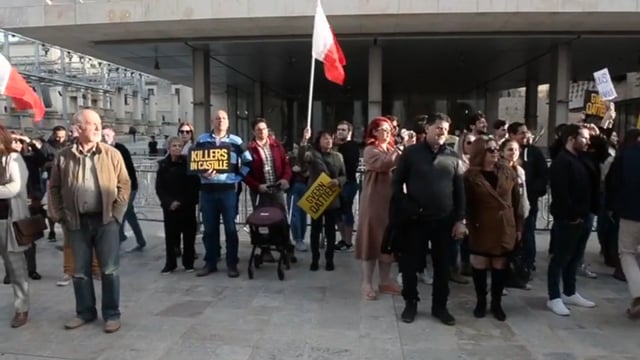 Valletta protest calls for Muscat resignation
Updated at 7.30pm with full report
Thousands of people descended on Valletta demanding Joseph Muscat's resignation as the country plunges deeper into crisis.
Marching to shouts 'Daphne was right', 'Justice', and 'Assassins', people called out Muscat, insisting that he was not their prime minister.
This was the seventh protest in two weeks after Yorgen Fenech was arrested and later charged with Daphne Caruana Galizia's murder. Another protest will be held tomorrow outside Parliament.
The protest was organised by civil society groups Repubblika, Occupy Justice and Manuel Delia. It started in front of Parliament at 4pm and moved to the square in front of the law courts, where protesters were addressed by activists.
Fenech's arrest snowballed into a full political crisis after he implicated the Prime Minister's former chief of staff Keith Schembri in the murder during interrogation.
Schembri eventually resigned after intense internal and external pressure but the guns have now turned on Muscat.
Fenech's close association with Schembri through secretive companies in Panama and Dubai has turned toxic for Muscat. The Prime Minister had defended his chief of staff for three whole years since the Panama Papers uncovered how Schembri and Konrad Mizzi opened companies in Panama and had as a target client, 17 Black, a Dubai company that eventually turned out to belong to Fenech.
Schembri was arrested and interrogated at length over his alleged link to the Caruana Galizia murder but was later released by the police.
Protests decrying corruption and calling for the Prime Minister's resignation, have been growing in numbers and intensity.
Today's protest was the largest so far as pressure mounts on Muscat to step down. The protest came hours after an emergency meeting of the Labour Party parliamentary group gave Muscat free-reign to decide on his exit.
In a short introduction, blogger Manuel Delia addressed foreign journalists covering developments in Malta to go and tell the world that Joseph Muscat was not Malta.
"Malta is here," Delia said, calling on Muscat to resign.
Anthropologist Ranier Fsadni said the country deserved a prime minister who was loyal to the constitution and the country.
In what was possibly the strongest speech of the night, 16-year-old student Eve Borg Bonello was scathing in her criticism.
"You promised us the best of times and delivered us the biggest constitutional crisis ever; You promised us Malta Tagħna Lkoll and you helped in the killing of a citizen of this country; to cover up your tracks you assassinated Daphne Caruana Galizia," Borg Bonello said.
"I am here today to stand for a better future without corruption, without oppression… I dream of a transparent government; I dream of a time when people are free to speak without fear of repercussions; I dream of justice and freedom; I dream of a time when Malta does not need not to come out on the streets again like this," she said.
Addressing the Prime Minister, Borg Bonello ended her fiery speech by decrying Muscat's 'evil kingdom'.
"Satan, your kingdom must come down. Joseph, your kingdom has ended," she said to applause.
Former Nationalist Party president Mark Anthony Sammut urged Labour MPs to drag Muscat out the house.
He insisted Muscat's place was not in Castille but on a seat at the police depot to answer about what went on between him, Keith Schembri and Yorgen Fenech.
"You are not our prime minister. You are not my prime minister. You are the protector of the corrupt and the assassins," Sammut said.
He alluded that as long as Muscat stayed in power, civil disobedience will grow. "In front of injustice, disobedience is a duty not a wrongdoing," Sammut said.
Another protest is expected to be held tomorrow at 6pm while Parliament is in session but activists have hinted that the protests will persists over the coming weeks unless Muscat steps down.