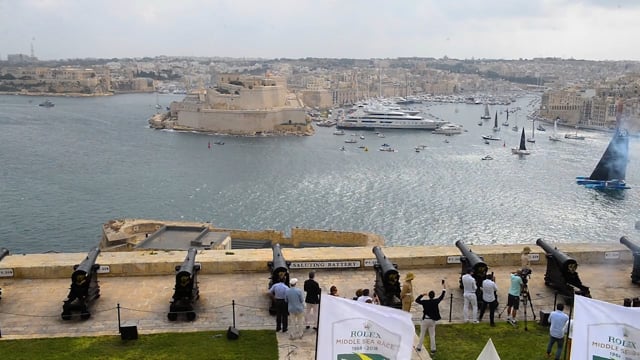 The 39th Rolex Middle Sea Race
The 2018 Rolex Middle Sea Race fleet this morning set off to make history in the 606-nautical mile Mediterranean offshore classic. Some 131 yachts registered to take on the Royal Malta Yacht Club's flagship event in the race's 50th anniversary year. If all cross the start line, the previous record of 122 starters will be comfortably beaten.
29 countries are represented by the participating yachts and many more nations among the polyglot crews.
Follow the race live here
The first start of the 39th Rolex Middle Sea Race was at 11am CET. The final prize-giving ceremony will be held on Saturday, 27 October, with the Rolex Middle Sea Race Trophy decided under the IRC Rating rule.
At the Owners' Reception held at Verdala Palace, near Mdina, on Wednesday evening, President Marie-Louise Coleiro Preca hailed the event as not just a race, but a community that brings together a myriad of nationalities in spirit of friendly competition.
Godwin Zammit, Commodore of the Royal Malta Yacht Club, expressed the excitement and satisfaction of the club to be hosting such a large and diverse fleet: "Looking back 50 years to the eight boats that set off on the original adventure, it is hard to believe how far we have come. We are thrilled that our race remains such a popular challenge for today's offshore sailor. Achieving a record fleet in our anniversary year is testament to many things: the unique character of the course, the attraction and challenge of offshore sailing, and, the tireless efforts of the volunteer members of our club that come together each year to bring this event to fruition."
The Rolex Middle Sea Race is supported by the Ministry for Tourism, the Malta Tourism Authority, Transport Malta, Yachting Malta, Marina di Valletta, Grand Hotel Excelsior Marina and the Grand Harbour Marina.
IRC Class 1 – 8 Boats; 7 Countries
Class 1 is a refined group of eight yachts led by George David's Juan K designed, canting-keeled 88-ft Rambler. Line Honours winner at the past three races, the American maxi is going for a record fourth successive win.
For David and his all-star crew, it would actually be a fifth such title following the team's debut success in 2007 when, with a previous Rambler, they secured the treble of Course Record (47h 55m 03s), Line Honours and Overall Win.
Nikata will create a record of her own, whatever her result, as the largest yacht ever to start the Rolex Middle Sea Race. Weighing in at 115-feet/34.98m, she is the first Supermaxi to take advantage of the removal of the upper length limit in 2017.
Dieter Schön's German entry Momo arrives fresh from victory at the 2017 Rolex Maxi 72 Worlds and Rolex Giraglia offshore race will be hoping to deliver her proven prowess in this testing environment. She has form having finished third overall on her Rolex Middle Sea Race debut in 2015.
The crew has been strengthened by the addition of Italian sailing legend Francesco de Angelis and Jules Salter, as navigator. Wild Joe from Hungary makes a welcome return.
Marton Jozsa's Reichel Pugh canting-keeled 60-footer was absent last year undergoing the surgery that has introduced DSS foils which, according to Jozsa, have improved performance markedly. Stu Bannatyne, a four-time winner of the Whitbread/Volvo round the world races, will give the crew added edge.
Maximilian Klink's Caro, the Botin 65, has been regular competitor since her launch in 2013 and offers her crew a fast, comfortable ride in a yacht designed for short-handed racing. Her best result to date is fifth overall in 2016.
IRC Class 2 – 11 Boats; 8 Countries
Arguably the class containing some of the most potent weapons in the battle for overall honours. Eric de Turckheim's Teasing Machine is a powerful beast. The Nivelt-Muratet design won the 2017 RORC Transatlantic Race and her Rolex Middle Sea Race line up once again features Laurent Pages, member of the 2011-12 Volvo Ocean Race winning Groupama crew, as tactician. Third place last year is proof of her competitiveness.
A trio of 52-footers will also carry confidence into the race. Yachts of that size have won three of the past ten races. Optimum 3 is the oldest of the group, but enters the contest having won the race in 2004.
Co-owners Periklis Livas and Nick Lazos, are back for the first time in four years with a young, determined crew.
Vadim Yakimenko's Russian entry Freccia Rossa is a former winner of the Rolex Giraglia offshore race. And, although last year's tough conditions led to her early retirement, the crew is confident and well-organized. Gérard Logel's IRC52 Arobas completes the triumvirate.
Cookson 50s have a strong record in the Rolex Middle Sea Race, with an overall win and several podium places in recent editions.
Pietro Moschini's Endlessgame will be looking to continue the run, calling on the talent of former Olympian and 49er World Champion Gabriele Bruni in the tactician's role.
Stefan Jentzsch's much-travelled Carkeek 47 Black Pearl secured early bragging rights with a win in the warm up coastal race on Tuesday.
The South African pairing of Mark Sadler (tactician, and Rolex Middle Sea Race winner in 2012 with Hi Fidelity) and Marc Lagesse (navigator) forms a solid backbone of experience.
IRC Class 3 – 18 Boats; 13 Countries
Bringing together a broad spread of designs and ages, Class 3 sees the first of the Maltese home-heroes. Comanche Raider III is co-skippered by Ramon Sant Hill and Jonas Diamantino, who was one the few finishers in the storm-ridden 2007 race.
Polish entry Fujimo represents a blast from the past, the Reichel Pugh 50-footer came to fame in the IOR era, and while unlikely to threaten the overall standings adds definite colour.
Gert Jan Poortman is a four-time Volvo Ocean Race participant and leads a young Dutch team on the Van Uden. Walross 4 is another well-travelled boat having competed in the Rolex Sydney Hobart and Rolex Fastnet Race in recent years.
The Russian fleet is well-represented with Magic Twelve, Frogfoot and Belka 2.
IRC Class 4 – 24 Boats; 12 Countries
IRC 4 includes three Maltese entries. Last year, Timmy Camilleri's & Josef Schultheis' Xp-ACT was second in class and fifth overall. Christoph, Aaron & Maya Podesta's Elusive 2 will be racing for the ninth time, having come second in class last year, Elusive 2 has a new mast and a refit for this race.
Sean Borg's Xpresso completes the trio of Maltese boats with Ben Howett as navigator. French interest in the class comes from Philippe Frantz Albator and Maxime de Mareuil's Orange mecaniX².
From Antigua, Bernie Evan Wong will skipper Romanian yacht Africana and Gijs van Liebergen's Swan 65 Kings Legend is one of the most historic entries.
IRC Class 5 – 34 Boats; 14 Countries
Nicolas Ibañez Scott's Chilean Anita was third in class last year. Three Maltese entries include Jonathan Gambin's Ton Ton Malta Charters, and two teams racing Double-Handed: Jamie Sammut's 2016 class winner Unica and Sean Arrigo's Otra Vez. British interest includes: Nick Cherry's Redshift Reloaded, Scarlet Oyster skippered by Ross Applebey, and the Army Sailing Association's British Soldier led by Paul Macro. 2015 Rolex Fastnet victor, Géry Trentesaux heads a strong crew, including 2013 Rolex Fastnet winner Alexis Loisin, on Courrier Recommandé, and must be one of the race favourites if the conditions favour this class.
IRC Class 6 – 18 Boats; 9 Countries
The class reserved for the smallest boats includes last year's overall winner Igor Rytov's Bogatyr from Russia, this year racing Double-Handed. Johnathan Camilleri Bowman's Maltese Falcon II and the Young Sailors Foundation, skippered by Karl Miggiani, racing Jarhead, fly the flag for Malta. Richard Palmer's Jangada is another racing Double-Handed and vying for the overall win for the RORC Season's Points Championship. Janez Gorec's Slovenian Sun Fast 3200 looks to be the smallest yacht in this year's race.
Multihull Class
Four hi-tech multihulls form a spectacular curtain raiser at the start. Giovanni Soldini's Maserati, and Peter Cunningham's PowerPlay, are two of the world's fastest ocean-going multihulls. Maserati set the multihull race record in 2016 (49 hours 25 minutes and 01 seconds). PowerPlay is a new team and will be competing in the race for the first time.
A high-speed duel for Line Honours is expected between the two evenly matched crews. Robert Szustkowski Polish R-Six, and Adrian Keller Swiss flagged Allegra, both high performance catamarans make up the Multihull Division racing under MOCRA time correction.
Monohull Course Record: 47 hours, 55 minutes and 3 seconds – Rambler (USA) in 2007 Multihull Course Record: 49 hours, 25 minutes, 01 seconds – Maserati (ITA) in 2016.