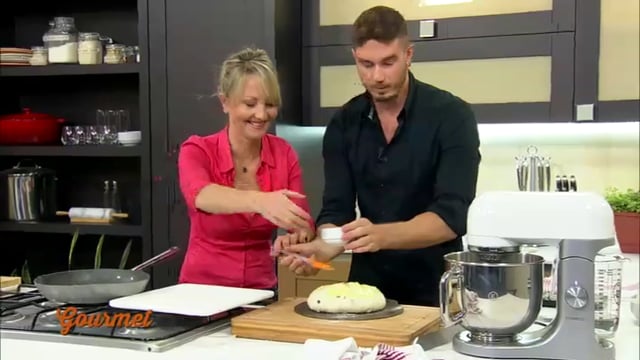 Chef Sean Gravina makes an olive bread with local olive oil
Ingredients
4.44g instant yeat
275ml warm water
500g strong flour
4 tbsp olive oil
1 tsp salt
180g black olives, pitted and chopped
Egg wash
Egg yolk
Dash milk
Dash olive oil
Coarse salt
Rosemary
Method
Preheat the oven to 220°C.
Place an oven tray in the oven and allow to get really hot.
Add the yeast to the flour and place in a mixer with a dough hook.
Add the warm water and knead for 15 mins until silky and elastic.
Add the olive oil, salt and chopped olives and knead again for 5 mins.
Cover the dough with a damp cloth and set aside in a warm place until the dough has doubled in size (approx. 40 mins).
Knock back the dough and form into a loaf shape on a floured surface.
Allow to rise for another 20 mins.
Place the loaf on the hot baking tray from the oven.
Mix the egg yolk, milk and olive oil and lightly brush the loaf.
Finely chop the rosemary and combine it with coarse salt. Sprinkle over the top of the loaf.
Bake in the oven for 30 mins or until cooked through.
Place on a wire rack to cool.
This recipe was first seen on Gourmet TV, episode 1 on TVM, aired on 3 October.