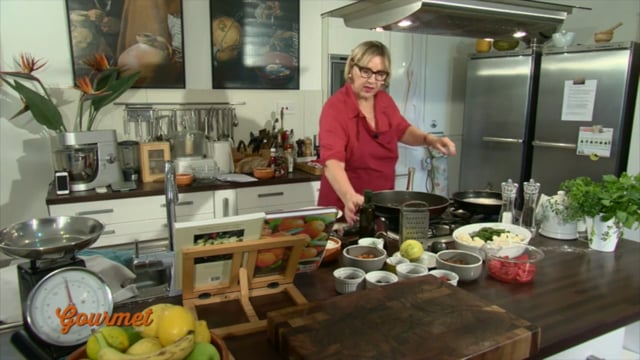 Pippa Mattei makes a lampuki pie
Traditional lampuki pie
Serves 6
Ingredients
500g prepared puff pastry or shortcrust
1½kg fresh lampuki
Flour, for coating
2 onions, sliced
A handful cooked peas
2 tomatoes, peeled and chopped
1 small cauliflower or broccoli, parboiled
1kg fresh spinach, cleaned and cooked or 500g frozen spinach cooked and drained
2 carrots, peeled and boiled till tender
2 tbsp tomato puree (kunserva)
2 tbsp capers
2 tbsp sultanas
6 black olives, pitted and chopped
1 tbsp parsley
1 tbsp mint
1 tbsp basil
1 lemon, zest only
1 tsp mixed spice
Olive oil
Salt and pepper
Method
Cut the fish into portions, discarding heads and tails.
Dip in seasoned flour. Heat oil, and shallow fry until they are cooked through.
Allow the fish to cool enough to be able to handle it. Remove all the skin and bones carefully and cut up into bite-sized pieces. Set aside.
Fry the sliced onions in olive oil until they become soft and transparent then add the peeled chopped tomatoes, cook for 1 min after which add the cooked chopped cauliflower, the cooked chopped carrots, cooked chopped spinach and the peas. Add a small amount of water and simmer until all the vegetables are tender.
Add all the lemon zest, olives, herbs, spice, tomato puree, sultanas, and capers.
Season and allow to simmer another 5 mins. Remove from heat and allow to cool.
Roll out the pastry and line a shallow round, square or rectangular oven dish remembering to keep one third of the pastry for the top of the pie.
Take half of the vegetable mixture and spread out on top of the pastry base, then place the fried lampuki pieces evenly over all the vegetables, and finish off by spreading the remaining vegetables as a top layer over the fish.
Roll out the remaining pastry and place over the top sealing the edges well.
Prick all over the pastry lid with a fork.
Bake in a hot oven 200°C for 15 mins, then lower the heat to moderate 180°C and cook further until the pastry is golden brown.
Allow the pie to settle for 10 mins and serve it warm.
This recipe first appeared on Gourmet Today TV, episode 2, that aired on 10 October 2014 on TVM.