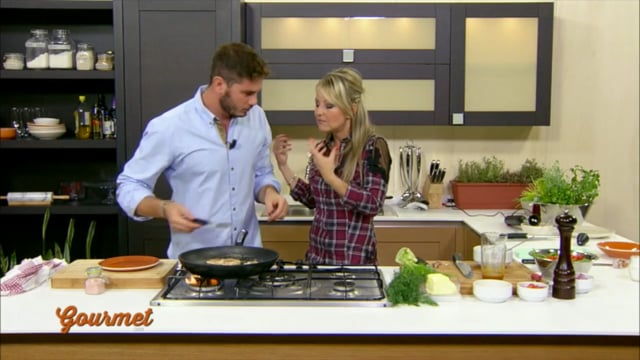 Lampuki and spinach salad with orange and pickled fennel
Ingredients
2 lampuki fillets
1 bag baby spinach
1 red onion
2 oranges, segmented
Handful water chestnuts
Vinaigrette
2 cup fresh orange juice (form 4 oranges) plus 1 tbsp extra
Fresh lemon juice
¼ tbsp Champagne vinegar
1 tbsp peanut oil
¼ tsp sesame oil
½ tsp fine salt
Dill
Pickled fennel
1 medium fennel bulb
1 cup rice wine vinegar
¼ cup sugar
1 tsp black peppercorns
1 tsp kosher salt
Method
Place fennel in a heatproof glass jar that holds one litre of liquid.
Bring vinegar, sugar, peppercorns, salt, and ½ cup water to a boil in a medium saucepan, whisking to dissolve sugar and salt.
Pour liquid into jar, cover, and set aside to cool to room temperature.
Refrigerate until ready to use. (This can be done up to a week in advance)
Make the vinaigrette by reducing the fresh orange by half and let it cool.
Add the reduced juice to a bowl together with a dash of orange juice an some squeezed lemon. Gradually blend the oils slowly to emulsify and once thickened add the dill.
Sautee the fish in a medium hot pan in some butter and garlic, flip the fillet once and turn off the heat and let it cook gently.
Mix the raw baby spinach with some vinaigrette and plate,
Add the sliced onions, orange segments and water chestnuts.
Break the fish gently with a fork and place on the salad and finish off with the pickled fennel and some more vinaigrette.