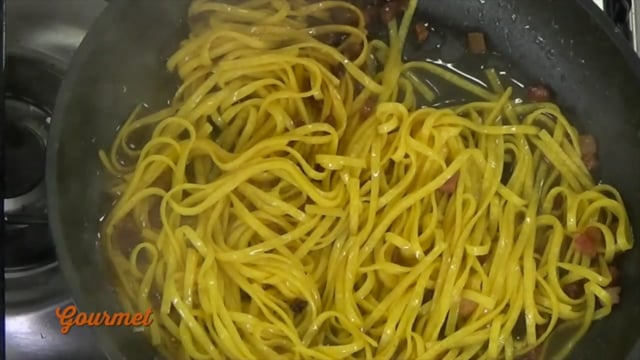 Sean Gravina and Moira Delia jazz up a simple carbonara with guiancale and rainbow chard
Carbonara with guanciale and chard
Serves 2 – 4
Ingredients
· 2 tbsp olive oil
· 1 large bunch rainbow chard (about 4-5 cups)
· 200g fresh pasta
· 100g guanciale, diced
· 1 shallot, chopped
· 2 cloves garlic, minced
· ½ cup pasta water
· ½ cup Chevrette goat cheese
· 4 eggs yolks
· Salt
· Freshly ground pepper
Instructions
Thoroughly wash and dry chard. Trim the ends, and slice the leaves into thin strips.
Heat oil in a large sauté pan over medium-high heat. Add the rainbow chard, toss to coat with the oil, season with a ¼ teaspoon salt and freshly ground pepper, and sauté until wilted, about 6-8 mins. Set aside.
Boil water and cook the linguine until al dente. Drain the linguine, reserving ½ cup of the pasta water.
While the pasta cooks, whisk together egg yolks, cheese, salt and pepper, making sure there are no lumps. Set aside.
In a large sauté pan over medium heat, cook the pancetta until crisp, (approx. 5 mins).
Stir in the shallot and garlic and cook for 2-3 more mins.
Add the reserved pasta water to the pan, and stir so the mixture is well blended. Cook about 1 min.
Add linguine and rainbow chard to the pan, and toss to fully coat.
Remove the pan from the heat. Add the egg mixture to the pan, stirring quickly to combine, so that the eggs thicken but don't scramble.
Season to taste with salt and pepper.
Garnish with freshly grated Chevrette goat cheese.