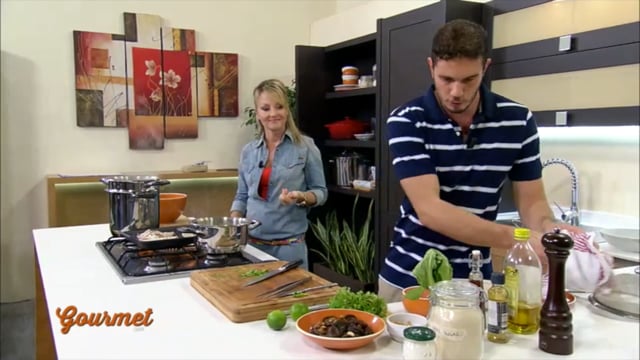 Sean Gravina and Moira Delia make a Thai noodle soup with calamari and coconut milk on Gourmet TV
Thai calamari and coconut broth with grilled bok choy
Serves 4
Ingredients
6 mussels
6 slices ginger
2 stalks lemongrass
2 shallots
2 cloves garlic
1 tbsp fish sauce
2 fresh chillis
Drizzle sesame oil
1 cup coconut milk
1 cup coconut cream
1 lime, juice only
2 tbsp rice wine
1 tsp palm sugar
¼ cup cashews
1 large bok choy
Large handful kale
½ cup dried Shitake
100g rice noodles, blanched
2 calamari
¼ cup coriander
Method
Make paste out of the lemongrass, shallot, ginger, garlic, coriander and chili.
Saute the paste in some vegetable oil, then add rice wine vinegar and some palm sugar and reduce.
Add mushrooms and some of the water then add coconut milk and cream.
Bring to the boil and simmer for 5 mins with the mussels, then set aside to cool. Once cooled, strain through fine sieve.
Roast the cashews lightly until aromatic, make sure not too over cook them.
Blanch some of the noodles as per instructions on the packet.
Blanch the bok choy leaves and kale in salted water and refresh in ice water.
Grill a few halves of bok choy hearts on a very hot grill pad.
Grill the calamari together with the tentacles but finish them off in the broth for a few mins.
Garnish with chopped coriander, cashews and slices of chilli.