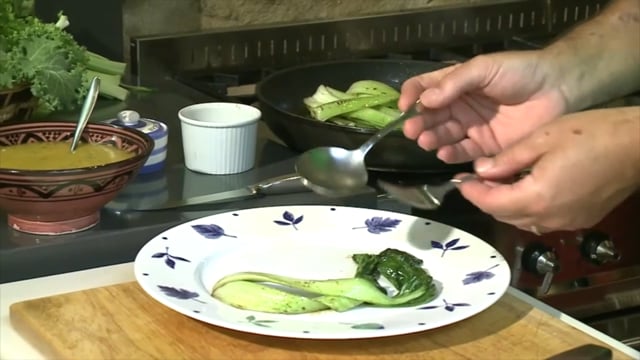 Michael Diacono makes a duck breast with apricot relish for Gourmet TV
Seared duck breast with apricot relish and fried bok choy
Serves 4
Ingredients
4 duck breasts
2 tsp five spice powder
Salt and pepper
350g tin apricots in syrup
1 - 2 tsp preserved jalapeno peppers in vinegar
1 lemon, juice only
Fresh coriander leaves
1 tsp sugar
2 - 4 bok choy, depending on size
2 tbsp dark soy sauce
Method
Preheat oven to 195°C.
Score the fat on the duck breast and rub with the five spice powder then season with salt and pepper.
Heat a large non-stick frying pan. Do not add any oil or butter.
Place the duck breasts, skin side down, in the pan and cook for 5 mins till browned and the fat starts to dissolve.
Turn over and continue cooking for a further 2 mins.
Transfer to an oven tray and continue cooking for 6 mins only then remove from the oven, cover with foil and leave to rest for a few mins.
Place the apricots together with the syrup into a blender.
Add the jalapeno together with some of the pickling vinegar and blend well.
Add a small bunch of coriander. Blend again.
Finally add the lemon juice and sugar and give it a final blitz and set aside.
Slice the bok choy and fry in the same pan as the duck in the remaining duck fat. (If there is too much just remove some).
Cook for a few mins till wilted then season with soy sauce and mix well.
Serve the duck sliced on the apricot relish with some bok choy on the side.